On August 22, the ammonia fuel supply system independently developed by COSCO SHIPPING Heavy Industry Technology (Weihai) passed the evaluation of the expert panel and received the first marine product test certificate from the China Classification Society. This achievement makes COSCO SHIPPING Heavy Industry the first company in China to successfully operate an ammonia fuel supply system in a simulated ship scenario
The successful operation of the ammonia fuel supply system is a significant milestone in COSCO SHIPPING Heavy Industry's project, "Research and Development and Demonstration Application of Ammonia Powered Dual-fuel Engine and Supply System."
Currently, the industry widely recognizes ammonia as one of the fuels with great potential for use in the shipping industry's journey towards green and low-carbon transformation. Based on recent survey findings, it is projected that the utilization of ammonia fuel in shipping will increase from 7% in 2030 to 20% in 2050.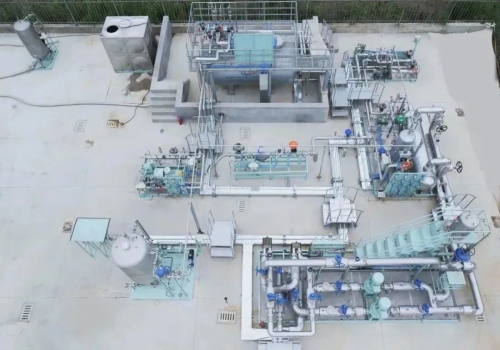 In light of this projection, COSCO SHIPPING Heavy Industry Technology (Weihai) has been dedicated to conducting technical research and development on the ammonia fuel supply system. By achieving significant advancements in key technologies such as liquid ammonia filling, storage, and supply, the company has successfully implemented dual-core redundancy + process closed-loop automatic control in the core control system. It has also incorporated multivariable decoupling algorithms and voltage stabilization control logic to ensure the stable output of crucial parameters like fuel supply pressure and temperature, guaranteeing the smooth operation of both the main and auxiliary engines of the ship under varying working conditions.