On April 23, the vessel SPECTRUM N called at Yangpu International Container Terminal, marking the official launch of the "Indonesia - Xiaochantan" shipping route that is put into operation under COSCO SHIPPING as a new marine transport channel of the New International Land-sea Trade Corridor.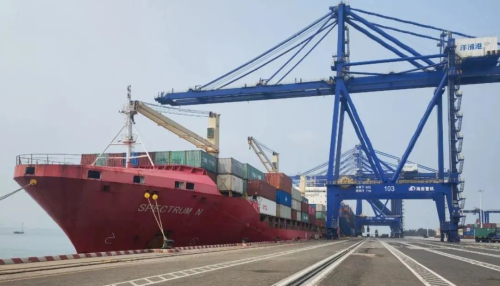 Operating on the CIS route on a weekly basis, this Indonesian vessel will call at the ports of Qingdao, Shanghai, Ningbo, Quanzhou, Dachanwan, Jakarta (UTC1), Surabaya, Port Klang, and Xiaochantan. It now only takes seven days to sail from Jakarta to Xiaochantan. The opening of this route will provide the enterprises based in Hainan with a more efficient and cost-effective "direct shipping channel" with better service for importing coconuts, natural rubber, and other goods. It will also serve as a new transit for cargoes shipped from Indonesia to Qinzhou, Zhanjiang, and other ports around the Beibu Gulf.
In recent years, thanks to the favorable policies implemented by the Hainan Free Trade Port and the opportunities brought by RCEP, the trade in goods between Hainan province and Indonesia has continued to proliferate. In 2022, the trade volume between the two sides tripled from 2020 to over 10 billion yuan. Out of this, the trade of imported goods from Indonesia to Hainan exceeded 6 billion yuan, doubling that of 2020. China has been Indonesia's largest trading partner and largest export market for ten years in a row.