May 9 marked the first day of the international trade show "Transport Logistic 2023" in Munich, Germany. Fully resuming offline meetings, this year's show is the largest of all its previous events.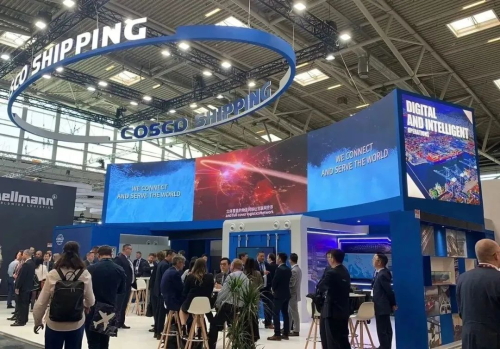 As the world's leading integrated shipping logistics enterprise, COSCO SHIPPING participated in the trade fair together with COSCO SHIPPING (Europe) and more than 30 subsidiaries, showcasing its business development in Europe and its latest services and activities in decarbonization, digital intelligent supply chain, social responsibility, and service innovation. Around 2,300 exhibitors from 67 countries and approximately 70,000 visitors from around the globe took part in the event.
In the afternoon, COSCO SHIPPING (Europe) participated on behalf of the Group in "mariLOG", the 12th International Conference on Maritime Logistics, to discuss current topics and trends in the industry. The company pointed out that COSCO SHIPPING has been paying great attention to green sustainable development, with a strong focus on satisfying customers by providing green, intelligent and digital supply chain solutions, and promoting digital transformation and faster development. COSCO SHIPPING also works hard to accelerate the construction of a global digital supply chain platform, build a supply chain service ecosystem covering "shipping, ports and logistics", and maximize the efforts to work with partners to reduce environmental impact.
In the evening, the company invited more than 150 key customers to join the reception hosted by COSCO SHIPPING for business communication.
During the trade fair, COSCO SHIPPING Holdings, COSCO SHIPPING Bulk and COSCO SHIPPING (Europe) also had business meetings with customers, reached cooperation intentions, and achieved fruitful results.
Transport Logistic (Munich) is the leading international trade fair for logistics, transportation , IT and supply chain management. Since 1978, it has been held every two years in Munich