【Hong Kong – 16 March 2023】 COSCO SHIPPING Ports Limited ('the Company') announces its investment in 25% of the equity in Sokhna New Container Terminal, Egypt. On 15 March 2023, ZHAO Fengnian, the Chief Accountant of the Company, represented COSCO SHIPPING Ports and signed the project agreement with other partnering companies in a signing ceremony held in Cairo, Egypt. This project is a new terminal built by the Egyptian government, and will be constructed and operated by a joint venture co-invested by CSPL and other industry peers. The operating period for the project is 30 years, with a total investment amount of approximately USD 375 million, and the annual handling capacity after completion will reach 1.7 million TEU.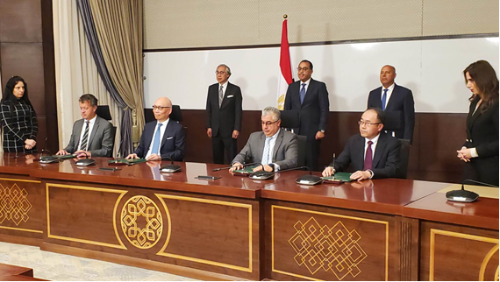 Mr. ZHAO Fengnian, the Chief Accountant of COSCO SHIPPING Ports (1st right in the front row) signed the project agreement with other cooperation partners.
The signing ceremony was witnessed by Mr. Mostafa Kamal Madbouly, the Prime Minister of Egypt (the middle in the back row) and Mr. Kamel Al-Wazir, the Transport Minister of Egypt (1st right in the back row) and others.
The Port of Sokhna is one of Egypt's major ports, and is located at the south entrance to the Suez Canal, approximately 120 kilometres east of Cairo. Adjacent to the northwest of Suez Canal Economic Zone, it is a gateway for trade between the east and the west. According to strategic plans, the Suez Canal Economic Zone, with an area of 460.6 square kilometres, will be developed into Egypt's industrial, technological and global logistical centre. Thanks to the prospective vision of the economic zone, the Port of Sokhna will continue to enhance its competitiveness in the Red Sea region and become an important logistics hub in the region and Africa at large.
As a world-leading integrated ports operator, COSCO SHIPPING Ports is committed to continuously improving its global terminal network. Currently, the Company has already invested the Port Said Suez Canal Terminal, a non-controlling terminal in Egypt. The investment in Sokhna Port will help the Company improve its terminal network in the region as well as optimise the Company's global layout. The successful investment of the Company in Sokhna Port will also contribute to the bilateral trade between China and Egypt/Africa.
About COSCO SHIPPING Ports (https://ports.coscoshipping.com)
COSCO SHIPPING Ports Limited (Stock Code: 1199.HK) is a leading ports operator in the world; its terminals portfolio covers the five main port regions and the middle and lower reaches of the Yangtze River in China, Europe, the Mediterranean, the Middle East, Southeast Asia, South America and Africa. As of 31 December 2022, the company operated and managed 367 berths at 36 ports worldwide, of which 220 were for containers, with a combined annual handling capacity of 122 million TEU.
For further inquiries, please contact:
| | |
| --- | --- |
| Investor Relations Department | |
| Ricky NG | William CHIU |
| General Manager | Senior Manager |
| Tel: 2809-8131 | Tel: 2809-8102 |
| Email: ricky.ng@coscoshipping.com | Email: william.chiu@coscoshipping.com |