On December 20, COSCO SHIPPING Specialized Carriers held an online exchange meeting regarding the application of V-RACK ultra-wide frame. Many auto manufacturers and relevant organizations in the industry participated in the event. At the meeting, the company introduced its original 48-foot "collapsible special frame for commercial vehicles," which will initiate a new mode of auto transportation.
The company's end-to-end service project team introduced in detail the features of V-RACK and the basic information of shipping routes where it plans to put the frame into use. It also demonstrated a live loading test, in which V-RACK is used to transport a bus, showing the entire process of cargo loading and lashing.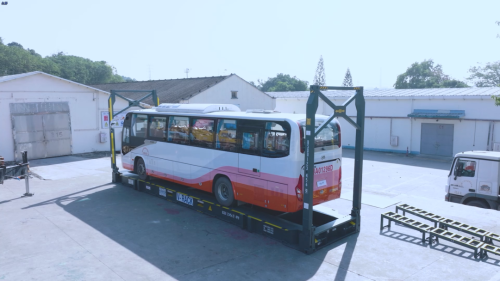 During the open discussion, representatives of manufacturers showed great interest in the new frame and spoke highly of the company's customer-centric service with continuous development and launch of new logistics products to improve its overseas supply chain service capability.
As the world's largest specialized carrier company under COSCO SHIPPING, COSCO SHIPPING Specialized Carriers has vigorously implemented China's national policy of "stabilizing foreign trade" and created V-RACK to address the logistics problems of China-made commercial vehicles going global, as a new mode of auto shipping for domestic commercial vehicle manufacturers.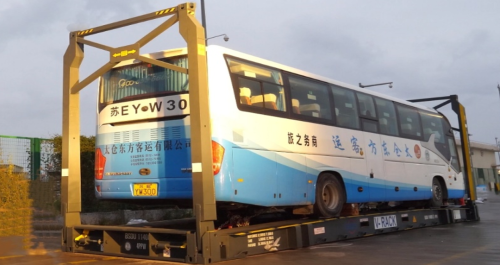 Wider than a standard container, the newly launched V-RACK ultra-wide frame can be handled with the lifting and stacking tools of standard containers, meeting the safety requirements of cargo handling for large vehicles with extra width, height, and weight. It can also make full use of the cargo handling facilities at container ports and avoid the restrictions of ro-ro terminals, which is highly suitable for transporting large vehicles such as buses, heavy trucks, and tractors.