As the heating season is approaching across various regions in China, the demand for energy sources, such as oil and liquefied natural gas (LNG), will reach a peak despite growing shipping capacity restraints. Facing the complexities in energy supply assurance, COSCO SHIPPING Energy has adjusted its shipping capacity scheduling and improved the ship operation efficiency to ensure safe and smooth energy transportation during the winter. Since the beginning of this busy season, the company has put into operation 159 tankers with a capacity of 23.34 million DWT and 39 LNG vessels with 6.6 million cubic meters.
As of mid-December, the fleet of COSCO SHIPPING Energy has transported a total of 114,508,000 tons of oil products through 1,486 voyages, of which 39,395,000 tons of oil was imported in China through 211 voyages, effectively guaranteeing the smooth water transportation of crude oil and refined oil products; it has also delivered 25,133,300 cubic meters of natural gas through 165 voyages for energy import, serving as a non-stop engine for energy supply assurance in winter.
Be well-prepared for energy supply assurance
COSCO SHIPPING Energy promptly set up a special team to provide transportation support and established a customer-specific 24-hour hotline to address the shipping needs. By always putting customers' needs first, the company made well-rounded arrangements for the investment of shipping capacity, focusing on the provision of safe, efficient, and convenient transportation services.
The LNG fleet carried out joint inspections with ship owners on the APLNG transportation project to further ensure efficient operation of vessels during the peak season. It had a pre-inspection of the ship SHAOLIN, the first ship built for CNPC's international project, to ensure the safety of its first voyage in winter. The company also participated in the feasibility and risk demonstration meeting for energy supply assurance in winter at the Port of Tangshan and for night service of LNG vessels to share the safety management experience; it optimized LNG capacity allocation and repair plan and arranged LNG vessels "CESI TIANJIN" and "CESI WENZHOU" to finish their 5-year docking work before the arrival of the busy season. The LNG vessel "CESI LIANYUNGANG", which was scheduled to start its repair work in December 2022, would continue its service until 2023, thus releasing 522,000 cubic meters of shipping capacity. The progress of shipbuilding was also accelerated, as the vessel WUDANG was delivered 47 days earlier than the contracted delivery date, increasing the shipping capacity for winter energy supply by 174,000 cubic meters. Efforts were also made to promote level-to-level safety risk control and hidden danger investigation and management, and strengthen collision prevention, occupational injury prevention, fire, and explosion prevention, as well as pollution prevention; work meetings were held to prevent typhoons and gales and defend against pirates, while safety cautions were strengthened for navigation in fog to improve the operational efficiency of LNG vessels.
Take multiple measures to ensure energy supply through cooperation
COSCO SHIPPING Energy has given full play to its scale advantage to explore the new space for value growth of traditional tanker service and improve the comprehensive operation capability for the emerging LNG transportation service. It has also strengthened industrial chain operation, reinforced innovation-driven development, enhanced cooperation with customers of strategic significance and top enterprises at home and abroad, and promoted coordinated development of oil products, LNG, and new energy transportation service, highlighting the importance of cooperation, and joining forces to ensure energy supply during the winter.
In terms of oil tanker service, the company strengthened communication with ports to improve the efficiency of cargo evacuation and avoid concentrated arrival of ships; it paid close attention to weather changes in winter, and coordinated with cargo owners and ports for cargo handling in advance to reduce the impact of bad weather and ensure smooth operation of vessels and cargo delivery; it communicated with maritime regulators to learn about the policy requirements of ports in icy areas in winter, and had targeted winter maintenance of vessels. The company also fully leveraged its various ship forms and extensive business scope, providing technical safety support, opening new terminals, and offering safety training to enhance the total logistics service capacity for winter energy supply.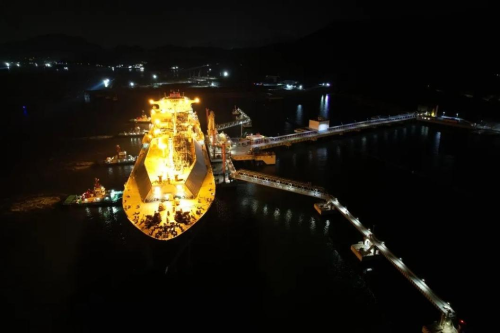 As for LNG carrier service, CESI QINGDAO successfully berthed at PipeChina's LNG terminal in Shenzhen with a full load of 174,000 square meters of liquefied natural gas. It was the first emergency berthing of a large 174,000m2 LNG carrier at night in China. The night berthing of LNG carriers not only effectively shortened the demurrage period, enhanced the flexibility of vessel schedule, and improved the efficiency of vessel usage and energy saving and carbon reduction capacity, but also increased the berth utilization ratio and emergency supply capacity, greatly improved the efficiency of winter gas supply, and cut the transportation cost.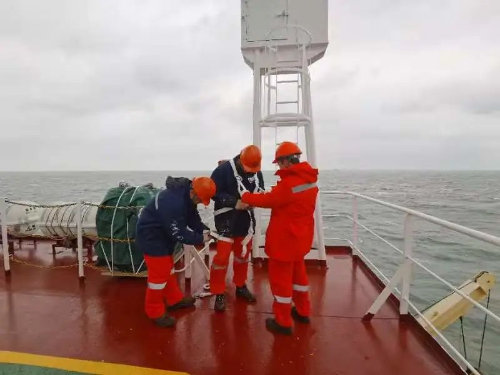 Optimize shipping capacity through a variety of measures
In terms of ensuring the supply of shipping capacity, the company gave full play to its capacity advantages, following up on changes in different market segments and customer demands, and improving the interactions between domestic and foreign trade, crude oil, and oil products, as well as oil and gas. It also invested proper volume of shipping capacity in VLCC crude oil import (foreign trade), crude oil transshipment (domestic trade), and marketing of refined oil with a view to building a super-large oil tanker consortium in China, vigorously promoting the construction of CHINA POOL project, and attracting shipowners to realize the seamless connection of different transport sections with concerted efforts to ensure smooth transportation.
Recently, after more than a month of voyage at sea, SHAOLIN, the first vessel built for COSCO SHIPPING-CNPC International LNG Transportation Project, berthed at the terminal of CNPC's LNG Station at Yangkou Port in Jiangsu Province, delivering 138,000 cubic meters of LNG to China, which can be gasified into about 85 million cubic meters of natural gas. The timely arrival of imported LNG will inject strong momentum to cope with the peak of gas consumption in the Yangtze River Delta in winter under the sweeping cold wave across the country, providing greater support to the guarantee of energy supply in winter.