From September 8 to 9, the 4th Silk Road Maritime International Cooperation Forum was held in Xiamen, Fujian province. Themed around "Serve the New Development Dynamic by Boosting Domestic and International Economic Flows," the event was co-organized by the People's Government of Fujian Province and China Institute of Navigation under the guidance of the National Development and Reform Commission (NDRC) and Ministry of Transport.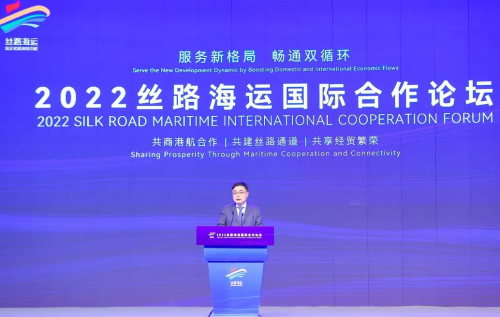 On September 8, Executive Vice President of COSCO SHIPPING Mr. Lin Ji was invited to attend the main forum and delivered a speech entitled "Promote Breakthroughs in the Industry Chain to Stimulate Sustainable Development of Shipping."
Lin stated that in order to cope with the imbalance of global supply chain and industry chain restructuring, the shipping industry should achieve three fundamental breakthroughs at the industry level by facilitating groundbreaking development of: (1) the industry structure through the integration of shipping resources, (2) the industry ecosystem through digitized operation management, and (3) the industry technology through the application of zero-carbon fuel in the future. At present, COSCO SHIPPING operates 56 domestic and foreign trade lines in Fujian province. Since the outbreak of the pandemic, COSCO SHIPPING has relied on its global route network to provide a safer and more stable, reliable, and transparent supply chain security system for customers on both the production and demand side. In the future, it will continue to take note of the changes of emission reduction rules in the international shipping industry, strengthen the research of emission reduction paths, carry out research on green energy initiatives for ships and ports, and implement a range of pilot projects such as electric and ammonia-powered container ships, working diligently to achieve the dual targets of emission peak and carbon neutrality.
2022 BRICS New Industrial Revolution Exhibition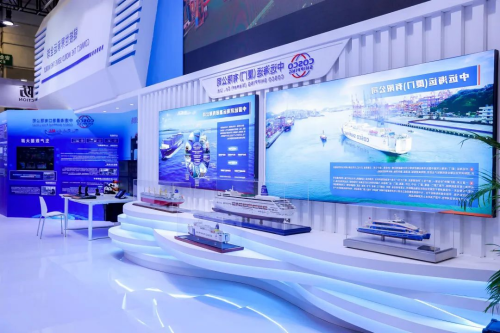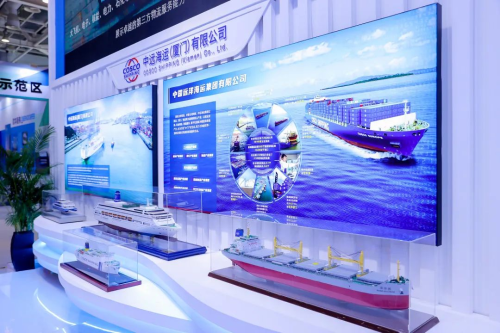 As a member of the BRICS Business Council Chinese Chapter, COSCO SHIPPING was also invited by the Ministry of Industry and Information Technology to participate in the "2022 BRICS New Industrial Revolution Exhibition" held in Xiamen. COSCO SHIPPING Xiamen and COSCO SHIPPING Ports Xiamen Ocean Gate Container Terminal attended the exhibition.
On the afternoon of September 7, Vice Minister of Industry and Information Technology Mr. Xin Guobin visited COSCO SHIPPING's exhibition booth and learned about the application of COSCO SHIPPING digital technology in Xiamen Ocean Gate 5G container terminal and how COSCO SHIPPING subsidiaries in Xiamen have used new industrial technology to promote business development.
During his stay in Xiamen, Lin also attended a meeting with Executive Vice Governor of Fujian Province Mr. Guo Ningning, and held talks with Executive Vice Mayor of Xiamen Mr. Li Huiyue to discuss further deepened cooperation between the two sides.