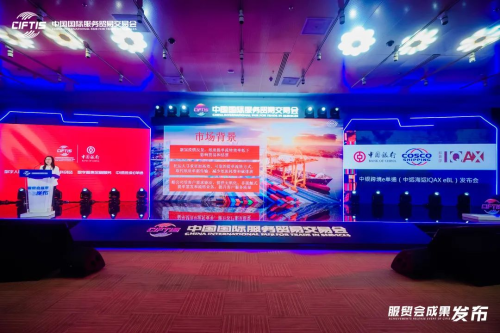 On September 1, at the Achievement Release Event of the 2022 China International Fair for Trade in Services (CIFTIS), COSCO SHIPPING launched the electronic bill of lading service – "IQAX eBL" – jointly with Bank of China. This brand new service of "paperless" trade settlement for customers combines traditional business advantages and cutting-edge technology innovations of both organizations and makes full use of the advantages of blockchain technology such as tamper proofing, traceability and trustworthiness.
IQAX eBL boasts the four advantages over traditional bills of lading or even non-blockchain-based electronic bills of lading.
Security
IQAX eBL, characterized by the electronic flow of bills of lading, as well as the full-process visibility and traceability, can avoid delay or interruption caused by defacement, damage and loss of paper-based bills of lading and other circumstances, while realizing data privacy protection and controllable documents of title.
Cost Reduction
The launch of IQAX eBL will eliminate the need to mail cross-border bills of lading and reduce over-the-counter delivery, thus shortening the trade cycle, reducing the use of working capital and avoiding the risk of demurrage.
Higher Efficiency
IQAX eBL can achieve the delivery of bill of lading "on the chain" in real time, which enables the consignee to directly initiate paperless switch of bill of lading upon receiving the electronic documents so as to realize contactless cargo delivery, further improve the efficiency of trade settlement, reduce the time for customs clearance and ensure the efficiency of goods delivery at ports.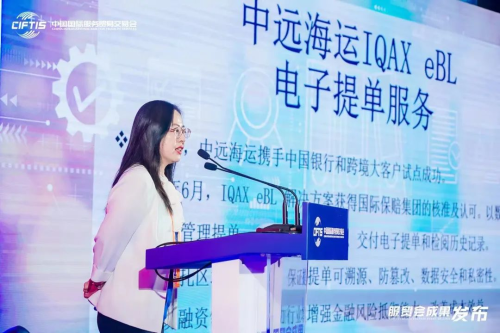 Environmental Protection
The launch of IQAX eBL will not only significantly reduce paper consumption but will also effectively reduce carbon emissions generated by the manual transmission of documents, as it goes in line with green and low-carbon development trends.
More importantly, IQAX eBL gets a jump start in facilitating trade based on the safe and efficient flow of bills of lading to enhance the shipper's ability to plan and manage the supply chain. It is of extraordinary significance in helping customers win the market competition and deliver greater value.