Relying on its port resources, COSCO SHIPPING Logistics has been promoting the innovation of transportation mode through innovative measures for the management, service, and marketing of bulk grain logistics business with a view to maintaining an unimpeded channel for food transportation to safeguard national food security.
More efficient food transportation through platform-based operations
Recently, COSCO SHIPPING BFT Logistics (Yingkou) Co., Ltd., a subsidiary of COSCO SHIPPING Logistics, successfully completed the transfer and shipment of 1,136 trucks, 316 trains and 160 containers of grain through close cooperation with port terminals, truck fleets, railroads, and customers. By overcoming various problems caused by the mixed application of transportation modes and simultaneous stock-in and stock-out operations, the company formulated a specialized operation solution, which helped it transship more than 70,000 tons of grain in different operational modes within five days.
By taking advantage of its platform-based operation to integrate all kinds of logistics resources and reduce grain circulation costs, BFT Logistics is able to provide customers with integrated grain logistics solutions with full traceability from the place of origin to the transportation hub and destination of marketing, and open up logistics channels from Northeast China to South China and Southwest China.
Relying on its independently designed and developed intelligent business system, BFT Logistics improved the efficiency of field operation by nearly 30% to greatly increase its transshipment operation capacity. Meanwhile, the application of the intelligent business system also enabled customers to learn about the cargo status, operation data and vehicle information in real time, so that they could promptly adjust the operation plan according to the actual situation with higher communication efficiency. The service offered by BFT Logistics was highly praised and recognized by the customers.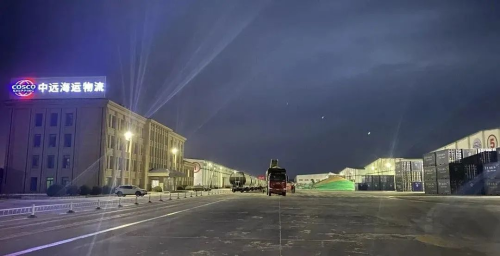 In two and a half months, since the harvest of autumn grain in Northeast China this year, BFT Logistics has transshipped 760,000 tons of grain to various ports in the south through its platform, with a monthly average transit volume of 300,000 tons. By early December, it has transshipped more than 1.9 million tons of grain this year, an increase of 35% year-over-year.
"River-river intermodal transportation" for wheat shipment in larger quantity and of better quality
Since the launch of JSH wheat transportation project, COSCO SHIPPING Logistics Nanjing has been optimizing its logistics solution. It managed to transport 22,000 tons of wheat from Anhui Province to Chongqing Municipality through innovative operations in November, which improved both the quality and quantity of bulk wheat transportation.
After completing previous transportation tasks with high efficiency and quality, COSCO SHIPPING Logistics Nanjing was highly recognized by customers for its outstanding coordination ability and high-quality service. As a result, it increased the volume of wheat shipment to more than 20,000 tons in November.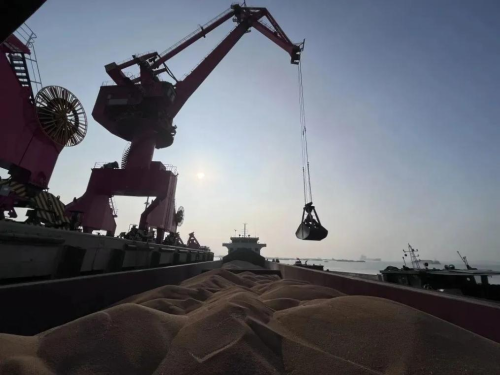 In order to ensure the supply of sufficient shipping capacity to complete the monthly shipping plan, the project team took multiple measures and conducted comprehensive research on the shipping capacity in the inland river section, the status of inland river locks and the situation of terminals in Anhui Province. Through comparison of different plans, it eventually decided to pull the shipping capacity at ports inside and outside the locks to enable simultaneous shipment of cargoes and managed to secure the operating berths with the support of terminals. Through these efforts, it realized the effective organization of shipping capacity, timely handling of cargoes, and reasonable control of freight prices, which ensured the successful completion of all shipping tasks in the month.
In the operational process, members of the project team stayed at the operation site and supervised the specific work to ensure that the barges were suitable for wheat shipment and the grains were all well loaded onboard. They also recorded the volume of cargoes unloaded from the barges and the cargo status after they were transferred to other ships so as to make it easier to inspect the cargoes before they were discharged in Chongqing. The company made flexible adjustments to the cargo flow and shipping capacity of barges, and successfully addressed the difficulties in the alternate shipment of two different kinds of cargoes and irregular opening of river locks. Ultimately, it managed to complete the shipment of more than 20,000 tons of wheat in November, which improved its organizational capacity of river-river intermodal bulk cargo transportation and also laid a solid foundation for the transportation of cargoes as factories constantly improve their production capacity.
COSCO SHIPPING Logistics will continue to promote business model innovation and collaborate with upstream and downstream players to break the transportation barriers for the creation of an unimpeded supply chain in order to safeguard the food lifeline of the country.