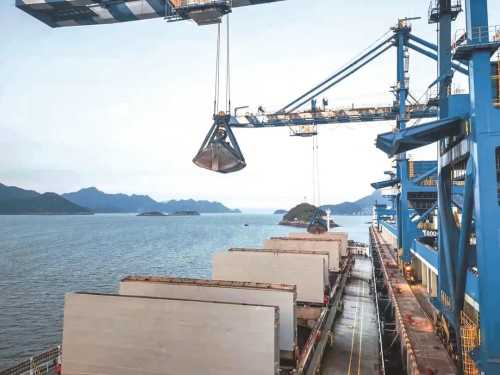 Since the fourth quarter of this year, COSCO SHIPPING Bulk has continued to implement policies to ensure stability in six key areas and effectively meet six priorities. Through full coordination both internally and externally, it has taken a set of measures for shipping capacity allocation, port traffic control and vessel operation safety to continuously improve the efficiency of coal transportation and contribute to the stability of the coal transportation supply chain in winter.
By putting customers' needs first, COSCO SHIPPING Bulk established effective communication mechanisms with power plants and shipping agents at loading and discharging ports, taken the initiative to learn about customers' monthly coal inventory and shipping capacity demand, and continued to adjust the shipping capacity arrangement in order to meet the needs of domestic customers for coal transportation. In terms of port traffic control, the company sent resident coordinators to major coal loading and discharging ports in China so that they could play a key role in communication and coordination for the provision of round-the-clock, one-stop service and the efficiency improvement of vessel operation. In addition, COSCO SHIPPING Bulk also strengthened vessel safety management, took preventive measures to deal with unexpected situations through ship-shore cooperation, and endeavored to overcome the impact of adverse factors such as the recurring COVID pandemic, typhoons in summer and autumn, and strong gales of the cold wave to ensure the safety of the coal transportation chain.
With the joint efforts of employees onboard and onshore, COSCO SHIPPING Bulk has mobilized 125 vessels, or 6.45 million DWT, of its own shipping capacity resource for coal transportation since October, providing steam coal shipping capacity guarantee for more than 100 major power plants nationwide and carrying over 51 million tons of steam coal in total, which contributed to the stable operation of the social economy and people's livelihood.