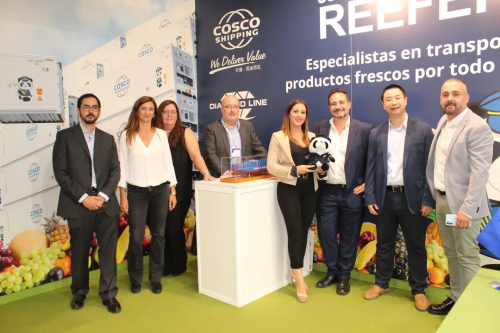 Recently, Fruit Attraction 2022 was held in Madrid, Spain. COSCO SHIPPING Lines (Spain) participated in the exhibition for the first time as an exhibitor on behalf of COSCO SHIPPING.
As one of the largest and most influential international fruit and vegetable exhibitions in Spain, Fruit Attraction drew a total of 1,740 exhibitors from 57 countries (including Latin America and Europe) this year, with a net exhibition area of more than 58,300 square meters for fruits and vegetables and 89,535 professionals attending the event.
The Spanish fruit and vegetable market has long been one of the key overseas reefer markets for COSCO SHIPPING. The company is deeply trusted by local enterprises based by virtue of its advanced digital technology service.
In this year's event, COSCO SHIPPING Lines (Spain) followed the current development trend of green, low-carbon and digital shipping, and focused on its "COLD TREATMENT" and BoxPlus intelligent reefer service, particularly displaying the service platform "My Reefer" which promotes the company's services and supports extended offerings, attracting many participants to visit and have discussions.
My Reefer
My Reefer Service Platform: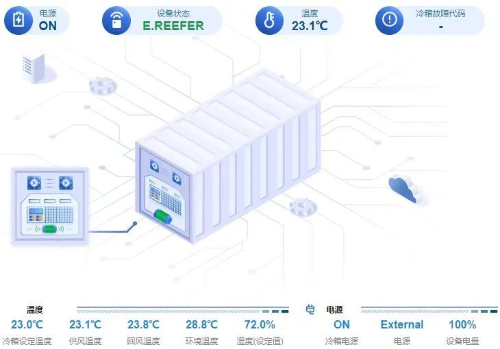 My Reefer is a digital specialized platform for COSCO SHIPPING Lines IoT reefer service, providing 24/7 support for customers. In addition to the PC-based platform, the My Reefer APP is also available on mobile devices to provide omni-channel customer service.
Whether it is a space booking number, bill of lading number or container number, customers can enquire the data of reefer in-transit, including its temperature, location, delivery path and status. There is even a customized push function to easily realize the visibility, control, and traceability of reefers through the whole process.
Through on-site marketing, COSCO SHIPPING Lines engaged with more than 100 fruit and vegetable production and trading enterprises from Europe and South America, communicated with customers of different goods, learned about their needs, and demonstrated its own service advantages, which paved the way for deeper cooperation in the future.