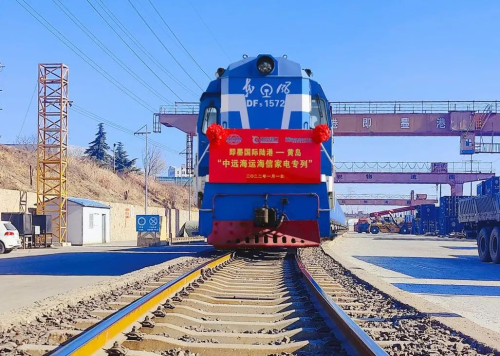 On January 1, 2022, with a long whistle, the COSCO SHIPPING Special Train for Hisense Home Appliances fully loaded with Hisense electrical products slowly departed from Jimo Port Station. The goods will be loaded on board a containership under COSCO SHIPPING Lines to Europe and South America after arriving at Huangdao Port Station.
Hisense Group, as a key strategic partner of COSCO SHIPPING, has established close cooperative relationship with the corporation. In the context of global supply chain strain, COSCO SHIPIPNG Lines has striven to open up new intermodal transportation channels and provide customers with new "end-to-end" services so as to address the customer's pain points.
All the Hisense home appliance products used to be shipped to overseas markets by liners after being transported to the ports by road and loaded onboard for shipping. However, the huge volume of shipments and heavy traffic at the ports often cause congestions that seriously affect the efficiency of cargo collection.
By learning about the customer needs and integrating the market resources, COSCO SHIPPING Lines launched the sea-rail intermodal transport service from Jimo to Huangdao just in time. COSCO SHIPPING Lines Qingdao were then commissioned to communicate with the customer about the details of the transportation plan and advance the rolling-out of the intermodal transport business.
The new business combines road, rail and marine transportation with end-to-end customized service, boasting multidimensional advantages in terms of the service cost, timeliness and stability. And it has been highly recognized by Hisense after the test operation. Moreover, the two sides are also vigorously promoting the official operation of the special train, aiming to realize two round trips per week.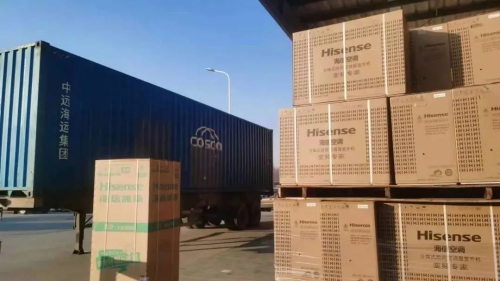 Looking forward, based on the smooth launch of the train, COSCO SHIPPING will continue to bring its "end-to-end" product development efforts into greater depth and sophistication, and strive to provide customers with more and better differentiated logistics service products and supply chain solutions.