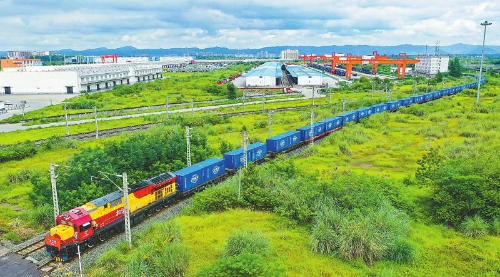 (Source of Picture: People.cn)
On September 17, a conference on deepening cooperation between the central enterprises and Yunnan Province was held in Kunming, Yunnan Province. It was co-sponsored by the State-owned Assets Supervision and Administration Commission (SASAC) of the State Council and the Yunnan Provincial People's Government. COSCO SHIPPING was invited to attend the event.
The theme of the conference was "Deepen Central Enterprise-Local Government Cooperation in Synergy with the Belt and Road Construction to Facilitate the Development of Yunnan into a Transport Hub." As the world's largest integrated shipping and logistics service enterprise, COSCO SHIPPING, with its industry-leading capabilities, has been actively supporting Yunnan Province to build an efficient, green and unimpeded integrated logistics supply chain transportation system.
On August 27, with significant support of the Yunnan Provincial Government, the New Sea-Road-Rail Transport Corridor linking Yunnan Province with the Indian Ocean, which was jointly built by COSCO SHIPPING and Lincang City, was successfully launched. Goods will first be transported from Singapore by sea, arrive in Lincang by road, and then go directly to Chengdu by rail, marking the formation of a new and efficient logistics channel from Southwest China to the Indian Ocean. With the transport distance being significantly shortened, the one-way delivery time can be reduced from 20 to 22 days.
The opening of the new transport corridor, as an important achievement of COSCO SHIPPING in enlarging its support to the development of Yunnan Province, also marks a breakthrough in the integration of Lincang City into the construction of the New International Land-Sea Trade Corridor. This new transport channel will dynamically open up the economic and trade exchanges between Yunnan Province and relevant countries in South Asia and the Indian Ocean rim, provide an important way for efficient transportation of materials and effective reduction of social logistics costs in Yunnan Province, and also play an important role in turning the province into a pivotal area of the Belt and Road construction in Southwest China.