On September 9, COSCO SHIPPING and Guangxi Zhuang Autonomous Region Government signed the Strategic Cooperation Agreement for the 14th Five-Year Plan Period in Nanning. Secretary of the Party Committee of the Autonomous Region and Chairman of the Standing Committee of the National People's Congress of the Autonomous Region Mr. Lu Xinshe, and Deputy Secretary of the Party Committee of the Autonomous Region and Chairman of the Autonomous Region Mr. Lan Tianli met with Chairman of COSCO SHIPPING Capt. Xu Lirong, who went to Guangxi to attend the 18th China-ASEAN Expo and China-ASEAN Business and Investment Summit. Mr. Lan Tianli witnessed the signing of document.
Mr. Lu Xinshe and Mr. Lan Tianli thanked COSCO SHIPPING for its long-term support to Guangxi's economic and social development, saying that Guangxi will continue to create a top-class business environment and provide optimal services to support the investment and development activities of COSCO SHIPPING in Guangxi. They also hoped that the two sides will promote the implementation of the signed cooperation agreement to achieve mutual benefits, win-win results and common development.
Capt. Xu Lirong said that COSCO SHIPPING is very optimistic about the prospect of investment and development in Guangxi, and actively participates in the construction of the new land-sea trade corridor in West China. It will continue to increase the local investment in the shipping route networks, port terminals, logistics and warehousing, sea-rail intermodal transport, and shipping finance, while working together with all parties concerned to accelerate the construction of the Beibu Gulf International Gateway Port and better helps Guangxi build a new pattern of all-round open development.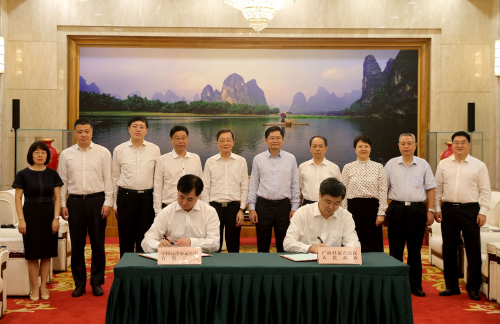 Executive Vice President of COSCO SHIPPING Mr. Huang Xiaowen attended the above event and signed the agreement on behalf of COSCO SHIPPING. Relevant heads of the Executive Division, Strategy & Corporate Management Division, and Operating Management Division of COSCO SHIPPING, and leaders of COSCO SHIPPING Lines were also present at the event.