The agate-colored, sweet-tasting cherries have become one of the most popular imported products for Chinese people's Spring Festival banquets in recent years. In order to make these popular purchases accessible to Chinese consumers as soon as possible, COSCO SHIPPING has leveraged its ocean liners and mature supply chain service network to turn the "Cherry Express" a bridge connecting both ends of the Pacific Ocean.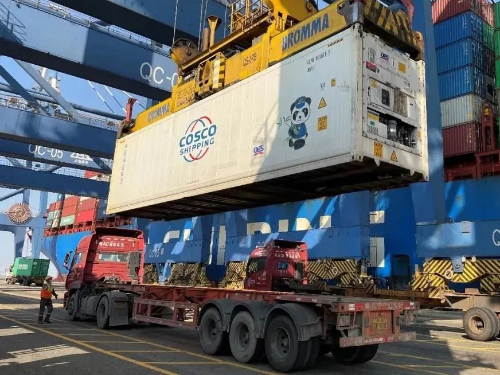 On December 22, M.V. COSCO NEW YORK arrived in Shanghai as the first "Cherry Express" liner this year. COSCO SHIPPING Lines managed to guarantee the shipping space and ship schedule throughout the whole process to build a "fresh" channel for Chilean cherries.
Collaboration for Fresh Delivery
To achieve a fast customs clearance, COSCO SHIPPING Lines Shanghai had worked with its reefer trading area to negotiate with Yangshan Customs and Shengdong Terminal on the technical details of cargo handling at the terminal, customs clearance and quarantine inspection. An agreement was reached after on-site discussions that all parties involved shall collaborate to ensure quick customs clearance and make plans for the possible extreme weather.
Service of Fresh Delivery
In order to accelerate the handling process, the customer service and documentation divisions actively communicated with the terminal and cargo handling personnel to prepare for the early customs declaration of the import reefers, advanced data screening, document amendment and document preparation, and provided customers with quick container pick-up service through digital paperless cargo release.
Support for Fresh Delivery
Before the berthing of the express liner, the liner agency division had tracked its dynamic position in real time. Early in the morning of December 22, it was heavily foggy in Shanghai. To make sure that the ship could berth on time, the ship agency division took quick actions to communicate and coordinate with the maritime office and terminal. Thanks to the concerted efforts made by various parties, the ship finally berthed as planned, after which the personnel on site worked with the inspection and quarantine departments to build a green channel for the express liner to go through relevant post-berthing procedures smoothly.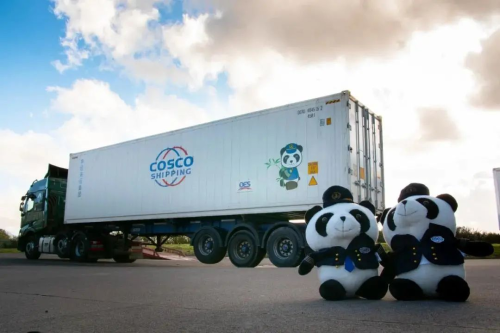 Affected by the pandemic, major terminals around the world continue to be congested, with the effective shipping capacity further shrinking. Relevant divisions of COSCO SHIPPING Lines have actively coordinated and cooperated with each other, and finally kept five "Cherry Express" liners through ship acceleration and direct delivery. It is reported that another four liners loaded with Chilean cherries are expected to arrive at Yangshan Port in Shanghai before the Spring Festival to meet China's fruit market demand during the festival season.