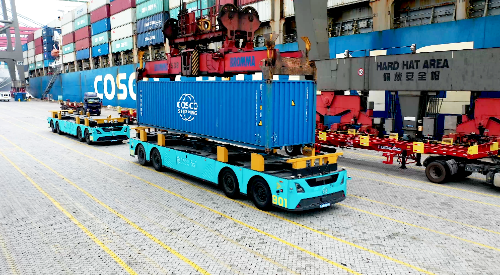 On December 21, "Smart Port 2.0", which was jointly developed by Dongfeng Motor Corporation, China Mobile, and COSCO SHIPPING together with industry partners, was officially launched for commercial operation at the Xiamen Ocean Gate Container Terminal.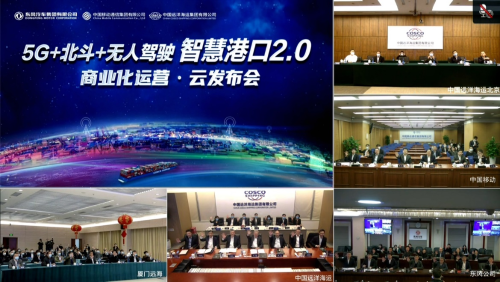 In the morning, the three parties held a launching ceremony by video. Secondary Inspector of the Department of Science and Technology of the Ministry of Transport Mr. Gan Jiaxiang, Chairman of Dongfeng Motor Corporation Mr. Zhu Yanfeng, Chairman of China Mobile Mr. Yang Jie, and Chairman of COSCO SHIPPING Mr. Wan Min attended the event through video connection in Beijing, Wuhan, Shanghai, and Xiamen respectively.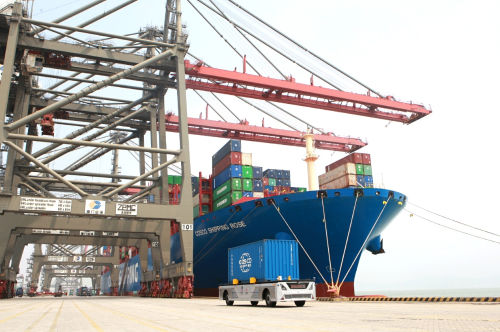 On May 11, 2020, Dongfeng Motor Corporation, China Mobile, COSCO SHIPPING and various other industry partners jointly released the 5G smart port full-scenario demonstration application at the Xiamen Ocean Gate Container Terminal. After more than a year of technical R&D and field testing, the 5G network finally went from technology test to commercial application, the unmanned container trucks developed from single-vehicle intelligent operation to smart system solution, and the container terminal upgraded from traditional cargo handling system to smart port intelligent cargo handling system.
"Smart Port 2.0" is a upgraded innovation based on the "5G smart port full-scenario application", which promotes the systematic improvement of key technologies including low-, medium- and high-frequency 5G networking, open-scenario hybrid operation of unmanned container trucks, high precision positioning and multi-sensor fusion of Beidou Navigation System, and 5G-based port machinery remote control transformation, with the development of standards for self-driving container trucks at ports and the commercialization of smart port operation. According to the actual field tests and comparison of different solutions, "Smart Port 2.0" is characterized by its small investment, short construction period, environmental friendliness and wide applicability, serving as an model for the upgrading of traditional container terminals into smart ones.
"Smart Port 2.0" relies on COSCO SHIPPING Ports' R&D Center for Automated Terminal Technology of Transportation Industry, which has produced fruitful research results. Since its establishment in November 2020, the R&D center has been granted 3 invention patents, prepared 11 special reports and participated in the formulation of 8 technical standards. At the 2nd Contest of Promoting BRICS Cooperation in Industrial Innovation hosted by the Ministry of Industry and Information Technology, the project of "5G-enabled automated terminal business scenario application" won the first prize in the final.
COSCO SHIPPING Ports, Dongfeng Trucks and China Mobile Research Institute Shanghai also signed the "Letter of Intent on the Commercial Operation of Unmanned Container Trucks for Ports", in which all parties will work together to promote the joint construction of smart ports and push forward technology innovation to empower the development of the industry.
Since the outbreak of the pandemic, the innovative application of intelligent port has provided effective support for the stable resumption of port operation. The signing of the agreement marked that "Smart Port 2.0" has officially started commercial operation at the Xiamen Ocean Gate Container Terminal, and will promote closer cooperation among the parties involved.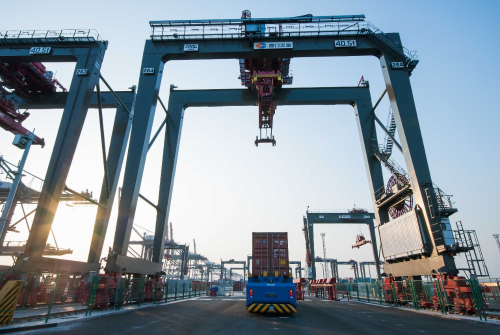 CSP Xiamen Ocean Gate Container Terminal, as the first fully automated container terminal in China, has seen continuous improvements in automated operation for years since it was put into operation in March 2016. Relying on the 5G signal that fully covers the terminal, China's first 5G+ full-scenario application smart port was built and completed in 2020, further promoting the shift of port development from automation to intelligent operation.