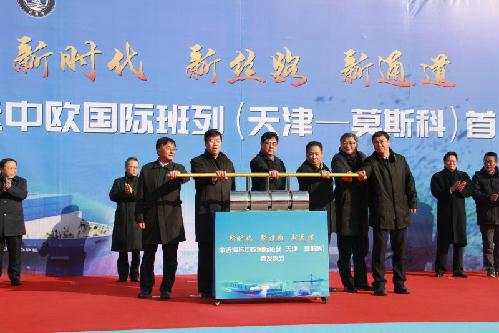 On January 5, the first China-Russia international train of COSCO SHIPPING departed from the Port of Tianjin and headed towards Moscow, Russia. Carrying forty six 40-foot containers solicited by COSCO SHIPPING Lines, the train would leave China via Erenhot and get reloaded in Zamiin-Uud, Mongolia and Naushki, Russia before reaching its destination. It is expected to take 14 days to finish the whole journey of 7,600 kilometers. The China-Russia international train, which will run weekly both eastbound and westbound, is crucial for COSCO SHIPPING, China Railway Corporation and Tianjin Port (Group) Co., Ltd. to step up innovative cooperation, effectively implement the strategic cooperation agreement and jointly build the China-Mongolia-Russia sea-rail intermodal transport corridor in North China. It is also a concrete practice of the three sides to carry out the second batch of China's demonstrative project of multimodal transport in Tianjin, as well as a key move of COSCO SHIPPING to engage in the Belt and Road Initiative , make full use of its advantages such as fleet scales, sufficient container resources and a complete international service network, and proactively participate in the building of the land-based Silk Road with railway and port companies.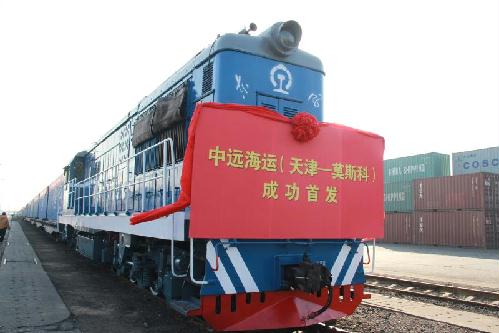 The China-Russia international train will be another premium brand regarding supply chain solutions to our global clients by virtue of the following advantages, namely, COSCO SHIPPING's global maritime container transportation network, multimodal transportation and extended services; the geographic advantage and logistics resources of the Port of Tianjin as the gateway to the sea in the Beijing-Tianjin-Hebei region and the eastern starting point of the China-Mongolia-Russia Economic Corridor (CMREC); and China Railway's national railway network and comprehensive strength in railway transportation. The very first train from Tianjin to Moscow was loaded with a variety of cargoes, including auto engine parts, communications equipment, crafts, clothes, electrical appliances from South China, East China and Tianjin. As the train continues to provide service, more products from Russia and Mongolia will reach the Chinese market, boosting strongly the economic and trade relations among China, Mongolia and Russia while injecting greater impetus to the construction of the Belt and Road and the CMREC.
Next, COSCO SHIPPIPNG will continue to enhance cooperation with China Railway and well connect the railway and waterway transportation. Given the short distance, high speed and environmentally friendliness of international trains, the Group will start its Central Europe (Central Asia) international trains in Shanghai, Lianyungang and Qingdao ports to further build an interconnected and effective new sea-rail intermodal transportation ecosystem. Through collaborative efforts with ports and railway corporations, it is aimed to build China into a maritime power with a sound trade environment and complete transportation infrastructures.