On April 27, the lifting of the upper section of the 1# pile leg of the world's first 4th-generation wind power installation vessel N966, built by COSCO SHIPPING (Qidong) Offshore, a subsidiary of COSCO SHIPPING Heavy Industry, was completed. So far, the lifting of the vessel's four 133-meter-long truss-type pile legs has been completed, making an important breakthrough in the construction project.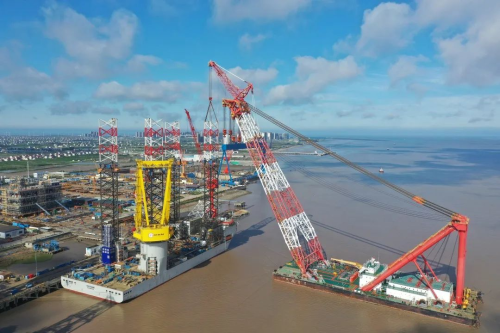 The project is a new 4th generation wind turbine installation vessel customized by COSCO SHIPPING (Qidong) Offshore for a well-known European ship owner. It is specially designed for the transportation, lifting and installation of offshore wind power equipment, suitable for installing offshore wind turbines of up to 18-20MW, with an operating depth of over 80 meters, an effective load of about 14,000 tons and living quarters that can accommodate 110 people.
The new vessel has better maneuverability than existing jack-up wind turbine installation vessels. It can not only carry the new generation of wind turbines and bases, but also optimize the installation work at sea with a larger deck area and reduce fuel consumption and carbon emissions.