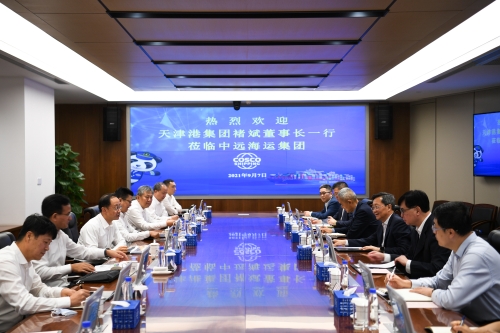 On September 7, a delegation led by Chairman of Tianjin Port Group Mr. Chu Bin visited COSCO SHIPPING and had a meeting with Chairman of COSCO SHIPPING Capt. Xu Lirong.
During the meeting, the two sides recalled their good cooperation and exchanged views on further strengthening the synergy of ports and carriers to achieve win-win outcomes through new cooperation.
Vice Presidents of Tianjin Port Group Mr. Luo Xunjie and Mr. Liu Qingshun, heads of relevant departments and affiliated organizations of Tianjin Port Group, Executive Vice President of COSCO SHIPPING Mr. Huang Xiaowen, Assistant to the President of COSCO SHIPPING and Chairman of COSCO SHIPPING Logistics Mr. Han Jun, heads of the Strategy & Corporate Management Division, Operating Management Division and Executive Division of COSCO SHIPPING, and leaders of COSCO SHIPPING Lines and COSCO SHIPPING Ports were also present at the meeting.