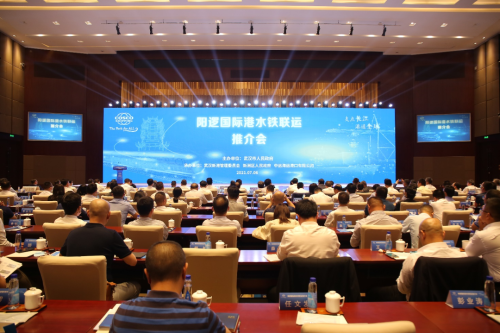 On July 6, the Water-Rail Intermodal Transport Promotional Meeting of the Yangluo International Port was held in Wuhan. Member of the Standing Committee of Wuhan Municipal Party Committee and Vice Mayor of Wuhan, Mr. Jiang Wei, and Executive Vice President of COSCO SHIPPING, Mr. Huang Xiaowen, attended and addressed the meeting. With the theme of "Based in the Yangtze River & Connected with the Whole World," the promotional meeting brought together representatives of shipping and logistics enterprises and their partners in the Yangtze River basin from the railway, shipping, port, logistics, finance, trade and e-commerce industries to discuss the new mode of collaboration.
Phase II of the Yangluo International Port water-rail intermodal container transport project, which is 70% owned by COSCO SHIPPING Ports, serves as a pivot of the company's "Yangtze River Strategy". As the construction started on August 1, 2020, the port is scheduled to be launched for operation on August 1, 2021 and is expected to reach completion and be put in to use in 2022. During a period of its operation, the port will boast a container throughput of 1 million TEUs and a water-rail intermodal transport capacity of 500,000 TEUs. By connecting the "last mile" between railroad and waterway transport, the port will achieve the integration of "railway, port, operation, inspection and information," becoming the largest water-rail intermodal transport base on the Yangtze River.
The project is located in the Yangluo Economic and Technological Development Zone of the Xinzhou District in Wuhan, with a total construction area of about 852 mu and a total investment of about 2.8 billion RMB. It consists of three major parts: terminal operations area, railway station area and auxiliary operations area. Among them, the terminal operations area is built with 4 container berths compatible with vessels of model "1140"and its annual throughput is expected to reach 1 million TEUs. Meanwhile, the railway station area is built with one 1,050-meter railway loading and unloading line, which can accommodate the arrival and departure of a fully loaded train. Its annual water-rail intermodal container operational capacity can reach 500,000 TEUs while the auxiliary operations area is a water-rail intermodal transport project, which will provide value-added logistics services such as container stuffing and destuffing, container cleaning and repairing and storage of empty containers. Combined with "5G+" technology and other intelligent elements, the project will be built as the first automated loading and unloading railway terminal in China, promoting the transformation and upgrading of traditional ports on the Yangtze River into green and smart new ones.
COSCO SHIPPING, as the world's largest integrated shipping enterprise, has attached great importance to the industrial development in Wuhan. It has set up a regional headquarters and management center in Wuhan for its container business to coordinate business operations in the middle and upper reaches of the Yangtze River. Furthermore, it has also established the COSCO SHIPPING Container Transport Global Information Service Center and Hubei Warehouse and Logistics Supply Chain Center in Wuhan. Looking ahead, with Wuhan as a pivot and the Yangluo International Port water-rail intermodal container transport project Phase II as the platform, COSCO SHIPPING will leverage the shipping, port, logistics and financial resources business units within its own corporate system to provide quality services to its customers and partners, and safeguard an unimpeded supply chain along the Yangtze River. While serving the dual circulation development pattern – both domestic and international economic cycle) – COSCO SHIPPING will render full support to build Wuhan into a hub port city in Central China and facilitate the high-quality development of Wuhan city and Hubei province.