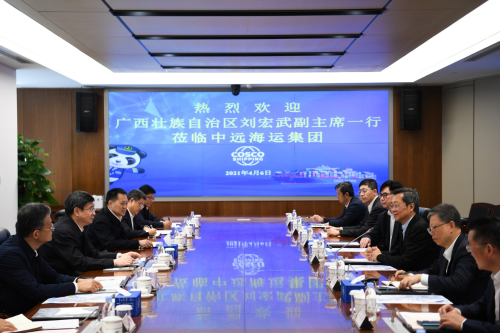 On the morning of April 6, a delegation led by Vice Chairman of Guangxi Zhuang Autonomous Region, Mr. Liu Hongwu, visited COSCO SHIPPING and held talks with Chairman of COSCO SHIPPING Capt. Xu Lirong and Director of the Board and President of COSCO SHIPPING Mr. Fu Guangfeng.
During the meeting, the two sides had an in-depth discussion on various issues, including a joint effort to develop the New International Land-Sea Trade Corridor, accelerate the construction of an international gateway at Beibu Gulf, and build an international hub port.
Deputy Secretary-General of Guangxi Zhuang Autonomous Region Mr. Yang Bin, relevant leaders of the Beibu Gulf Office and Qinzhou Municipal Government, Executive Vice President of COSCO SHIPPING Mr. Huang Xiaowen, heads of the Strategy & Corporate Management Division and Operating Management Division of COSCO SHIPPING, as well as executives of COSCO SHIPPING Lines and COSCO SHIPPING Ports were also present at the meeting.