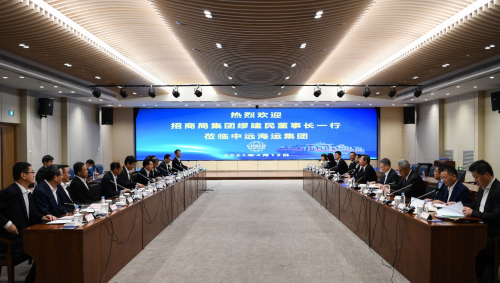 On the afternoon of April 12, a delegation headed by Chairman of China Merchants Group, Mr. Miao Jianmin, visited COSCO SHIPPING and held talks with Chairman of COSCO SHIPPING, Capt. Xu Lirong, and Director of the Board and President of COSCO SHIPPING, Mr. Fu Gangfeng.
During the meeting, the two sides reviewed their long-standing cooperation and hoped to further deepen cooperation and give play to their own advantages in complementary areas to achieve mutually beneficial outcomes on a broader scale.
Other participants of the meeting include Executive Vice Presidents of China Merchants Group, Mr. Wang Hong and Mr. Deng Renjie, Assistant to President, Mr. Hong Xiaoyuan, major executives of the Group's headquarters and various business units; Executive Vice President and Chief Financial Officer of COSCO SHIPPING, Mr. Sun Yunfei, Assistant to President of COSCO SHIPPING and Chairman of COSCO SHIPPING Logistics, Mr. Han Jun, heads of relevant divisions of COSCO SHIPPING; and executives of COSCO SHIPPING Lines, COSCO SHIPPING Bulk, COSCO SHIPPING Energy and COSCO SHIPPING Ports.