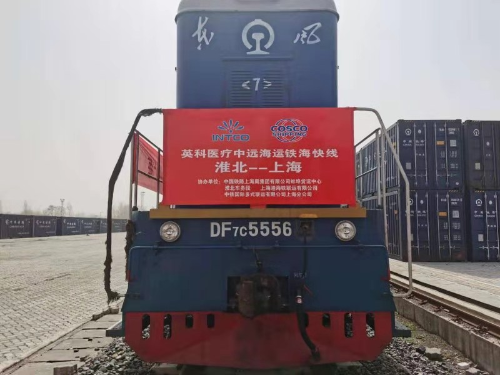 At 10:28 a.m. on March 29, the first train of sea-rail intermodal transport tailored by COSCO SHIPPING for the world's largest PVC glove manufacturer INTCO was successfully launched at Qinglongshan Freight Station in Huaibei, Anhui Province. Running between Huaibei and Shanghai, the train will arrive at Shanghai's Yangshan Port in 24 hours. Then, containers full of medical gloves will be loaded onto a COSCO SHIPPING vessel and delivered to support the front-line battle against COVID-19 all over the world.
Always adhering to customer-centric service standards, COSCO SHIPPING has fully leveraged its advantage of being an integrated logistics supply chain service provider. The company has adopted practically effective targeted service measures for different transportation modes, formulating and providing exclusive logistics solutions for customers characterized by the high efficiency of container truck transport and low cost of water transportation.
Againt the backdrop of the pandemic of COVID-19, INTCO, as the world's largest medical glove manufacturer, has experienced a sharp increase in its export of medical products. Located in Huaibei, Anhui Province, the largest production base of INTCO is nearly 700 kilometers from the Port of Shanghai, leading to a slew of logistics problems, including high road transportation cost, lack of shipping space, and constant shipment delays.
With the support of its headquarters, COSCO SHIPPING Lines has overcome the difficulties of insufficient shipping slots and empty container resource shortage, carried out an in-depth study of the customer needs, and designed a new logistics solution of sea-rail intermodal transport based on the advantage of this mode of transportation. Through the optimization of transportation modules, from sea-rail transport space booking, empty container allocation, container stuffing scheduling, customs clearance to large ship engagement, COSCO SHIPPING focuses on reducing logistics costs and improving shipping efficiency for customers, helping them participate in global trade competition more efficiently. Those who have opted for sea-rail intermodal transport can save 5,000 yuan per high cube container compared with direct trucking to Shanghai Port. Furthermore, with the support of Shanghai International Port Multimodal Transport Co. Ltd. and China Railway International Multimodal Transport Co., Ltd. (CRIMT) Shanghai Branch, the whole operation time of the special train has been reduced to under 24 hours, changing customers' initial perception that sea-rail intermodal transport is not as efficient as container truck transport.
COSCO SHIPPING will continue to take effective targeted service measures for its customers, create a more secure, stable, reliable, and transparent logistics supply chain guarantee system, and spare no efforts to address the congestion problems, and difficulties faced by global customers.