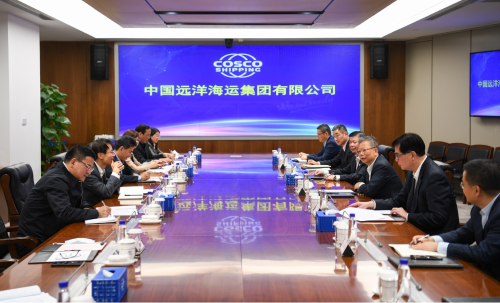 On November 24, a delegation led by Vice Mayor of Xiamen Mr. Huang Xiaozhou visited COSCO SHIPPING and had a meeting with Director of the Board and President of COSCO SHIPPING Mr. Fu Gangfeng and Executive Vice President of COSCO SHIPPING Mr. Huang Xiaowen. During the meeting, the two sides exchanged views on the development of COSCO SHIPPING's business operations in Xiamen.
Mr. Huang Xiaozhou expressed his gratitude to COSCO SHIPPING for its long-term contribution to the socioeconomic development of Xiamen. He said that COSCO SHIPPING has deepened its investment activities in Xiamen over recent years, and the cooperation projects between the two sides have been pushed forward on a steady basis. In particular, since the outbreak of the pandemic, COSCO SHIPPING has made a great deal of efforts to ensure the stability of the industrial chain and supply chain and facilitate the "dual circulation" of economy, playing an important role in promoting the high-quality economic and social development of Xiamen.
Mr. Fu Gangfeng thanked the municipal government for its great attention to the development of COSCO SHIPPING's business operations in Xiamen. He said that the development of digital and intelligent ports and terminals is an inevitable trend towards the future, and the successful operation of Xiamen Ocean Gate Container Terminal 5G Smart Port could not be realized without the strong support of Xiamen Municipal Government. With ports and terminals as the pivot, COSCO SHIPPING will strive to build an integrated logistics supply chain service ecosystem, constantly improve its service capacity, and continue to promote the implementation of cooperation projects between the two sides.
Director of the Administration of Xiamen Area of China (Fujian) Pilot Free Trade Zone Mr. He Dongning, Deputy Secretary General of Xiamen Municipal Government and Party Secretary of the Municipal Bureau of Industry and Information Technology Mr. Zhou Guiliang, leaders of relevant municipal government departments, heads of the Administrative Division, Strategy & Corporate Management Division, and Operating Management Division of COSCO SHIPPING, as well as executives of COSCO SHIPPING Lines and COSCO SHIPPING Xiamen were also present at the meeting.