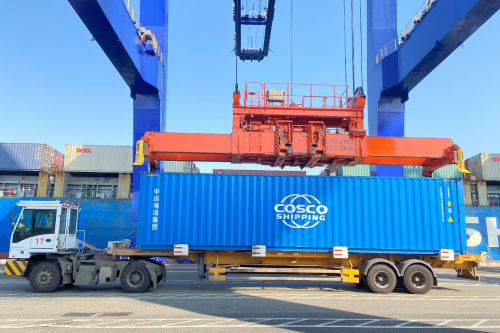 On November 14, the throughput of COSCO SHIPPING Yangpu International Container Terminal exceeded 1 million TEUs, with a year-on-year growth of 39%, out of which the volume of foreign trade containers increased by 60% against the downward trend. This is the first time that the throughput of Yangpu International Container Terminal has topped 1 million TEUs since the opening of the port in 2016. It marked another significant milestone achievement in the development of Yangpu International Container Hub Port.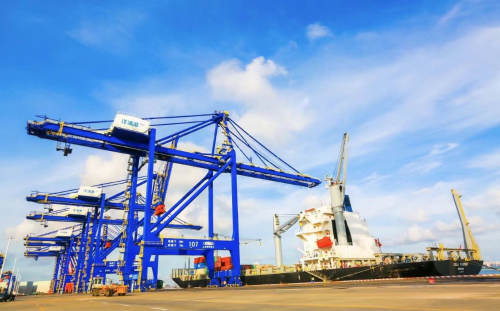 Through the joint effort of COSCO SHIPPING Lines and Hainan Harbor & Shipping, and with the support of free trade port policies such as ship consolidation for domestic and foreign trade transportation and refueling of bonded oil, Yangpu International Container Terminal has newly opened two groups of service routes for ship consolidation transportation at Lianyungang and Qinzhou ports, and launched the "bulk to container" express shipping service between Yangpu/Haikou and Fangcheng, which has strongly promoted the concentration of container cargoes.
The COSCO SHIPPING FCE Indian Ocean Service, which launched on November 9, is another ocean-going intercontinental service route opened at Yangpu Terminal, following the opening of the first intercontinental transoceanic service with Hainan Free Trade Port in September 2020. It has laid the foundation for COSCO SHIPPING to promote the distribution of international trunk routes for maritime shipping and the scaling up of transport capacity.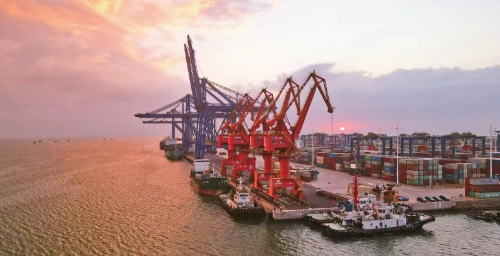 At present, Yangpu International Container Terminal has completed the upgrading of 32 sets of gantry cranes, with the proportion of remote-control operations within the coverage of the container yard reaching 91%. The highest single container handling efficiency on a shift is 2 minutes and 38 seconds, which has greatly improved the reasonable utilization rate of the yard. Efforts have also been made to cut the auxiliary operation hours, make use of the berthing break for equipment maintenance and repair, optimize the emergency response mechanism, and ensure the efficient operation of eight operation lines in order to unleash the berth efficiency to the greatest extent. Currently, the maximum daily container operation volume of Yangpu Terminal has reached 7,170 TEUs, the maximum monthly volume 125,500 TEUs, and the ship efficiency 47.2 units/hour, an increase of 22.06% year-on-year.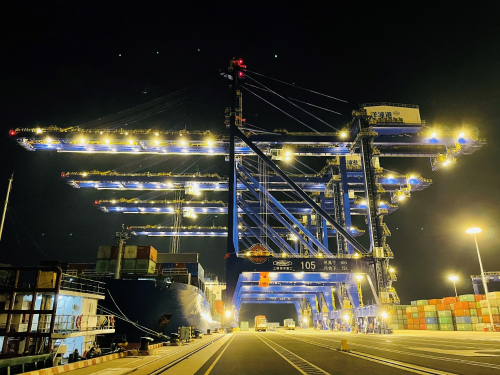 In the next step, Yangpu International Container Terminal will ride on the momentum and plan to put 36 pure electric tractors into operation in early December, as it is striving to create more value for customers and build itself into a smart green port to contribute to the sustainable development of Hainan Free Trade Port.