On January 27, COSCO SHIPPING Ports, a subsidiary of COSCO SHIPPING, announced the acquisition of a 20% stake in Red Sea Gateway Terminal Company Limited (RSGCT). Chairman of the Board of COSCO SHIPPING Ports, Mr. Feng Boming, and Vice Chairman of Red Sea Gateway Terminal, Mr. Aamer Alireza, signed the agreement on behalf of the majority shareholders of both companies respectively.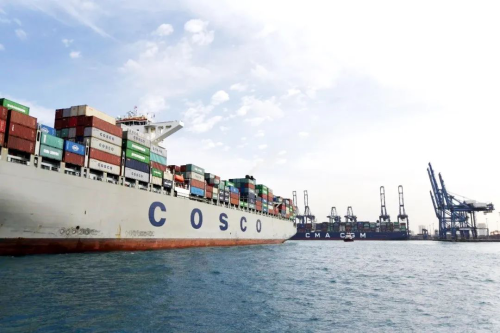 Located at Jeddah Islamic Port, the Red Sea Gateway Terminal is the largest port in Saudi Arabia, with a current annual container handling capacity of 5.2 million TEUs. Jeddah Port is strategically located in the Red Sea region. It is adjacent to major shipping channels, while pivoting to the markets of the Middle East and East Africa.
The Red Sea Gateway Terminal signed a 30-year concession agreement with the Saudi Port Authority in December 2019 and took over the operation of the Jeddah Islamic Port North Terminal in April 2020. Following the merger, the Red Sea Gateway Terminal will upgrade the equipments and increase the berthing capacity, while modernizing the terminal yard and other ancillary facilities. The new infrastructure and facilities will turn the terminal into the largest logistics gateway and the busiest container terminal in Saudi Arabia and the Red Sea region and will also bring a new impetus of growth to COSCO SHIPPING Ports.