On January 21, in Guangdong, COSCO SHIPPING and Midea Group held a signing ceremony for a strategic cooperation agreement and transportation service framework agreement. Chairman of COSCO SHIPPING Capt. Xu Lirong and Chairman and President of Midea Group, Mr. Fang Hongbo, attended the event and witnessed the signing. Executive Vice President of COSCO SHIPPING Mr. Huang Xiaowen, and Vice President of Midea Group, and Co-president of Midea's Smart Home Business Group Mr. Wang Jianguo, signed the agreement on behalf of each party respectively. During the event, COSCO SHIPPING Lines and Midea International Logistics Technology Corporation also signed a service framework agreement.
According to the agreement, COSCO SHIPPING and Midea Group will establish a comprehensive strategic partnership based on the principles of equality, mutual benefit, win-win cooperation, and common development, and carry out in-depth strategic cooperation in containershipping, end-to-end logistics supply chain, overseas collaboration, digital transformation, centralized procurement and technology exchange.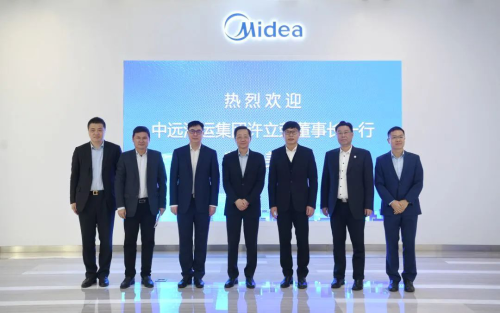 COSCO SHIPPING has maintained a long-term good cooperative relationship with Midea Group. Amid the global COVID-19 pandemic, COSCO SHIPPING has overcome many challenges to provide Midea Group with butler-like personalized services via its exclusive service team, offering strong logistics support for the stability of Midea Group's global supply chain.
In the future, COSCO SHIPPING will continue to fulfill its corporate responsibility, help facilitate economic and trade recovery at home and abroad, and provide quality services for its global customers.