On December 25, Xiamen Ocean Gate Terminal under COSCO SHIPPING Ports completed its 5G unmanned DCV full-scale ship test, delivering another achievement in the construction of the terminal into a 5G smart port.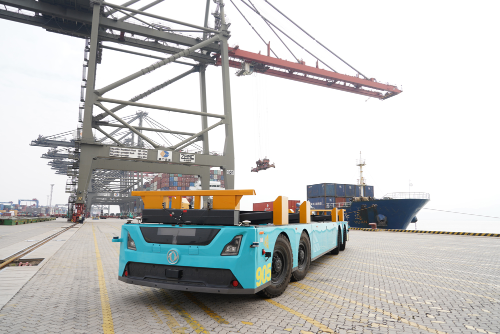 "5G unmanned DCV" full-scale ship test
At 10:50 a.m. in the F01 storage yard of Xiamen Ocean Gate Terminal, an unmanned DCV received a loading instruction. Relying on the 5G signal covering the whole place, the DCV drove to the container yard, completed the information exchange with the gantry crane, and then accurately transported a container to the spot under the shore bridge No. 101 at berth No.17. Later, a traditional container truck arrived at the rear of the DCV to dock with it. The mixed-mode loading operation was completed in one go.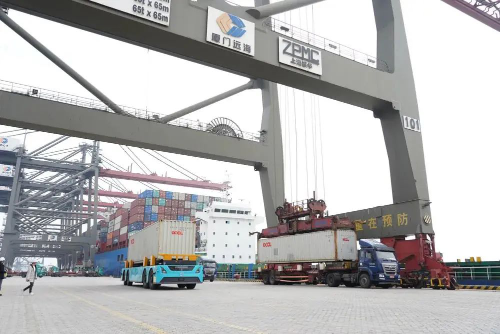 5G technology is now accelerating the rise of digital society. With the support of digital technology and an open innovation environment, the port transportation industry's development has been renewed with new vitality. COSCO SHIPPING Ports, a subsidiary of COSCO SHIPPING, is cooperating with Dongfeng Trucks and China Mobile to actively promote the construction of smart ports based on the integrated advantages of all parties, building the entire service chain from standards, information through operation to realize systematic synergy between "human, vehicle, road, and cloud." In May 2020, the joint enterprise standard "Unmanned DCV Performance and Testing Methods for Ports" was initially released in the industry, in addition to several research results such as "White Paper on the Implementation of 5G Smart Port in Full-Service Scenarios" and "5G Smart Port Implementation Plan and Roadmap". Moreover, the Ministry of Transport already approved the establishment of the C-ITS Intelligent Transportation Industry Alliance. On the whole, the cross-border integration of port and 5G technology has made substantial progress.