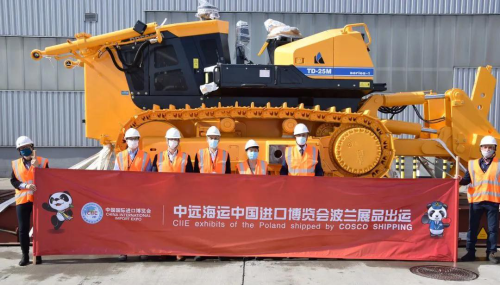 On September 4, local time, the first shipment of the exhibit for the 3rd China International Import Expo (CIIE) was successfully loaded onto CSCL ARCTIC OCEAN at the port of Gdańsk, Poland. Transported by COSCO SHIPPING, the exhibit is a crawler bulldozer manufactured by DRESSTA.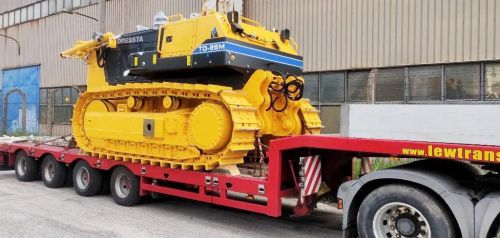 As the exclusive official carrier for overseas maritime transport of the 3rd CIIE, COSCO SHIPPING immediately contacted DRESSTA through COSCO SHIPPING Lines Poland when learning of its intention to participate in the Expo. COSCO SHIPPING Lines Poland introduced its global end-to-end total shipping service capacity and extensive experience in transporting exhibits for CIIE and won recognition from DRESSTA. According to the client's request and shipment plan, the Polish subsidiary arranged cargo space booking for the client promptly and prepared one 40-foot framed container and one 40-foot high container for the exhibit TD-25 crawler bulldozer, which weighs 35.56 tons at a height of 3.15 meters. In addition, it also provided safe and reliable loading and lashing services at the terminal.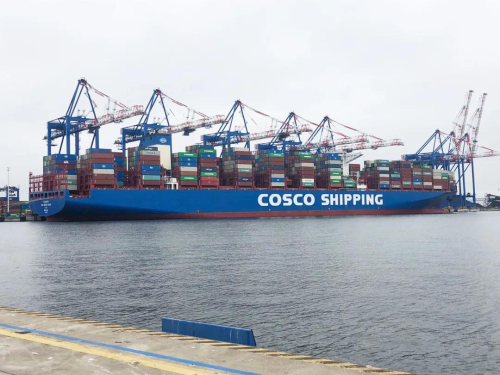 With a length of 399.67 meters, a width of 58.6 meters, a speed of 25 knots/hour, and a maximum load of 18,982 TEU, CSCL ARCTIC OCEAN now serves on the Far East-Northwest Europe loop (AEU1), a key shipping route to Europe designed by COSCO SHIPPING. The vessel is expected to arrive in Shanghai, the host city of the 3rd CIIE, on October 18.