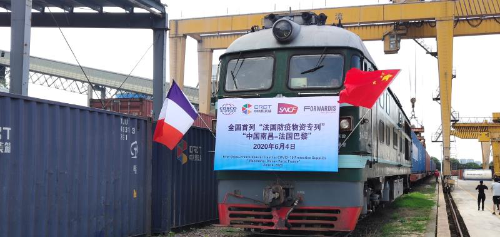 On June 4, a CHINA RAILWAY Express train of COSCO SHIPPING laden with medical supplies departed from Nanchang (Xiangtang) International Land Port heading for Paris, France. This is the first train carrying medical supplies from China to France since the global outbreak of COVID-19.
The train is loaded with a variety of pharmaceutical products, including 20 million masks, 45 million pairs of gloves, 1.3 million water-soluble bags, and non-contact disinfectant machines, with a total value exceeding EUR 10 million. Over the next three weeks, these materials will travel nearly 14,000 kilometers across seven countries and regions before arriving in France to be used in the country's fight against the pandemic.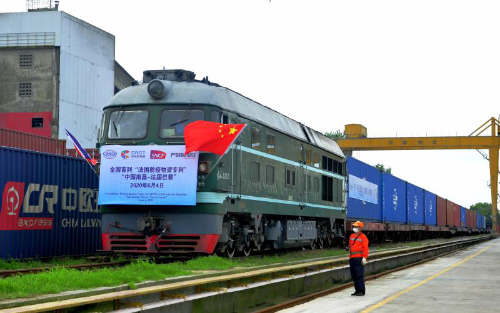 To ensure smooth transportation of the medical supplies, COSCO SHIPPING Lines has arranged for its branches in Wuhan and France to coordinate with the local government, customs, and related enterprises. Through their concerted efforts, a green channel was opened for customs clearance by giving priority to the inspection and release of these materials. After more than a month, the 41 carriages of products were timely released on the night of June 3.