A British couple on board had been drifting for nearly 12 hours before they were saved by the dry bulk carrier
12 Feb 2020 NEWS
Cichen Shencichen.shen@informa.com
The couple disembarked at Point Lisas in Trinidad and Tobago earlier this week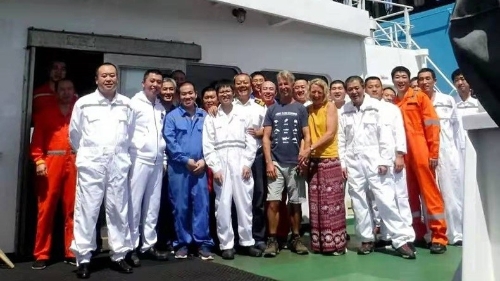 A BRITISH COUPLE AND THE CREW OF XIU YU HAI TOOK A GROUP PHOTO TO MARK THE OCCASION.
A COSCO SHIPPING dry bulker has rescued two people from a distressed sailing boat in the North Atlantic.
The British couple on board had been drifting for nearly 12 hours before they were saved by the 38,836 dwt Xiu Yu Hai around 1930 hrs local time on February 7.
Their ship, named Locomocean, lost power in a storm and had its mast broken off, Cosco Shipping said.
The couple disembarked at Point Lisas in Trinidad and Tobago earlier this week.
The bulk vessel remained at the South American port as of Thursday, according to vessel tracking data.