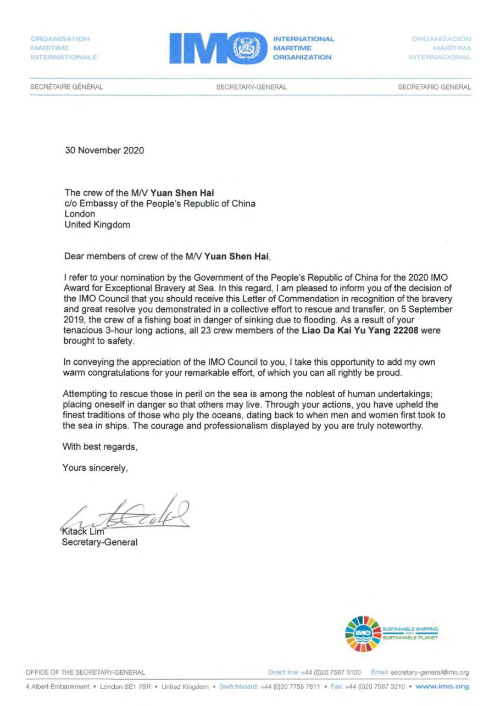 Recently, the M.V. Yuan Shen Hai run by COSCO SHIPPING Bulk, a subsidiary of COSCO SHIPPING, received the 2020 IMO Award for Exceptional Bravery at Sea.
On September 5, 2019, under the impact of heavy winds and waves, the wooden fishing boat "Liao Da Kai Yu Yang 22208" lost its power and was in danger of sinking due to flooding in the nacelle about 47 nautical miles northeast of Chengshantou. All 23 crew members were in distress. Upon receiving the order from Shandong Maritime Search and Rescue Center, COSCO SHIPPING Bulk's 400,000-ton bulk carrier, "M.V. Yuan Shen Hai" rose to the challenge in the humanitarian spirit and successfully rescued all 23 people by releasing rescue boats and davits. During this process, the crew managed to overcome the complicated situation at sea, such as low visibility at night, bad sea condition, and poor communication.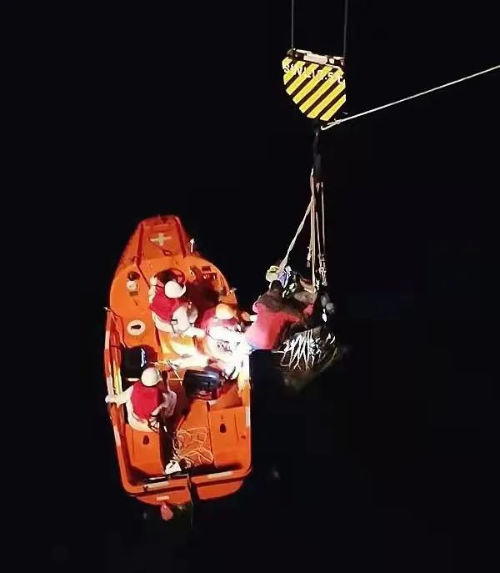 Through the 5-hour long tenacious actions, they rescued all 23 crew members in peril at sea in the dark night
The Award for Exceptional Bravery at Sea is an important international maritime award established by the International Maritime Organization (IMO). It is awarded annually to those who have acted with exceptional bravery and courage to save lives at sea and prevent or minimize damage to the marine environment in the face of life-threatening situations.