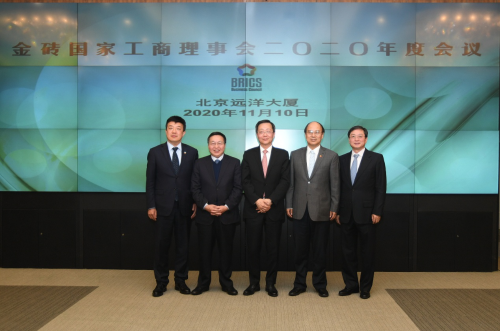 On November 10th, Beijing time, the BRICS Business Council 2020 annual meeting was held in the form of video conference, with the participation of members from China, Russia, Brazil, India and South Africa. Chairman of COSCO SHIPPING, Capt. Xu Lirong, attended the conference in Beijing as Chairman of the Chinese Chapter, together with four other chapter members, including Chairman of China Oil and Foodstuffs Corporation (COFCO), Mr. Lyv Jun; President of China General Technology, Mr. Lu Yimin; Chairman of the Industrial and Commercial Bank of China (ICBC), Mr. Chen Siqing; and Chairman of China National Petroleum Corporation (CNPC), Mr. Dai Houliang.
Chairman Xu addressed the meeting on behalf of the Chinese Chapter, and signed the annual report. He said that although the pandemic has brought various challenges to the BRICS countries this year, with the joint efforts of the Business Council, all work is continuing to progress steadily, contributing to the joint fight of the BRICS countries against COVID-19 and promoting the economic recovery as well as economic and trade cooperation among the five countries. In particular, positive results have been achieved in digital technology innovation cooperation, green and sustainable development, and economic, trade and financial cooperation. He expressed his hope that the business communities of all five BRICS countries will continue to strengthen communication and cooperation, actively offer suggestions and recommendations, and play a greater role in the BRICS cooperation mechanism.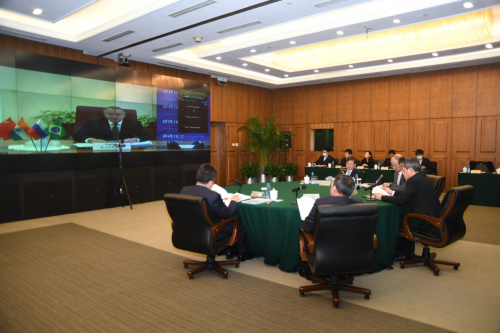 The meeting is one of the ongoing events of this year's BRICS Summit in Russia and the most important meeting of the BRICS Business Council this year. At the meeting, each of the nine working groups reported on their respective work for the year. The annual report was reviewed by the council members of the five countries and then signed by the chairman of each country chapter.