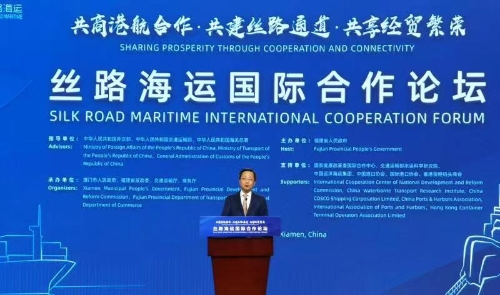 On September 7, 2019, the Silk Road Maritime International Cooperation Forum with the theme of "Sharing Prosperity through Cooperation and Connectivity" was convened at Xiamen International Conference and Exhibition Center. Mr. Tang Dengjie, Governor of Fujian Province, presided over the forum. Mr. Yu Weiguo, Secretary of the CPC Fujian Provincial Committee and Chairman of the Standing Committee of Fujian Provincial People's Congress, Mr. Liu Xiaoming, Vice Minister of Transport, Mr. Essam Sharaf, former Egyptian Prime Minister, Mr. Long Yongtu, former Vice Minister of Foreign Trade and Economic Cooperation and former Secretary-General of Boao Forum for Asia, and Mr. Aleksandar Antić, Minister of Mining and Energy of Serbia, respectively addressed the forum.
Chairman of COSCO SHIPPING Capt. Xu Lirong, was invited to the forum supported by the corporation, and delivered a keynote speech entitled The Industrial Missions of Carriers and Ports. He expounded on the industrial missions of carriers and ports in promoting "Silk Road Maritime" construction from the two aspects of "driving development" and "promoting transformation".
After the forum, Mr. Yu Weiguo and Mr. Tang Dengjie met with a COSCO SHIPPING delegation led by Capt. Xu Lirong. Mr. Yu fully recognized the contributions of COSCO SHIPPING to Fujian's economic and social development and expressed the hope that the corporation will leverage its unique advantages to push forward "Sill Road Maritime" construction.
Executive Vice President of COSCO SHIPPING Mr. Zhang Wei, Assistant to the President of COSCO SHIPPING and President of COSCO SHIPPING Logistics Mr. Han Jun, and executives from related divisions and subsidiaries of COSCO SHIPPING were also present at the forum and the meeting.
A cooperation project signing ceremony was also held during the forum. COSCO SHIPPING Ports, COSCO SHIPPING Bulk, COSCO SHIPPING Logistics (Xiamen) respectively signed cooperation agreements with related enterprises in Xiamen.
In addition, the 2019 China International Fair for Investment & Trade and the Belt & Road Investment Conference will kick off in Xiamen on September 8. During the fair this year, the "Silk Road Maritime" Pavilion will be set up for the first time and world-famous ports, shipowners and logistics companies will be invited to the fair. COSCO SHIPPING subsidiaries in Xiamen, including COSCO SHIPPING Xiamen, Xiamen Ocean Gate Terminal, COSCO SHIPPING Logistics (Xiamen), Xiamen Mintai Ferry, and Astro Ocean, will jointly participate in the fair.