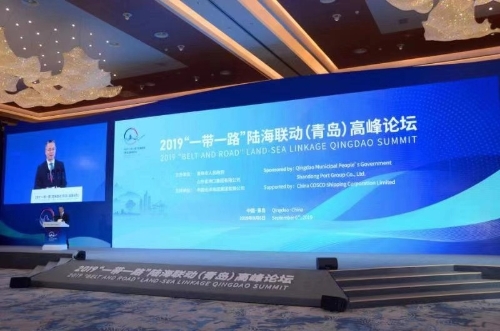 On September 6, the 2019 "Belt and Road" Land-Sea Linkage Qingdao Summit, co-sponsored by the Qingdao Municipal People's Government and Shandong Port Group and supported by COSCO SHIPPING, opened at the Convention Center of Qingdao World Expo City. Executive Vice President and Party Committee Member of COSCO SHIPPING Mr. Zhang Wei attended the summit on invitation and delivered a keynote speech on "Enhancing the Value of the Carriers and Ports Industry Chain to Support the New Stage of the Belt and Road Initiative".
Zhang said that COSCO SHIPPING has been attaching great importance to the cooperation and coordinated development with ports. In implementing the Belt and Road Initiative, it has further realized the significance of carriers and ports partnership to the industry's development, Silk Road construction, and global trade. In the years to come, COSCO SHIPPING, together with Shandong Port Group, will find more opportunities of industry chain cooperation to jointly participate in the Belt and Road construction, build an industry chain value community, improve the services of carriers and ports, and facilitate their transformation and upgrading.
Vice Governor of Shandong Province Mr. Ling Wen, Deputy Secretary of the Qingdao Municipal Party Committee and Mayor of Qingdao Mr. Meng Fanli, Vice Mayor of Xi'an Ms. Ma Xianping, Chairman and Party Secretary of Shandong Port Group Mr. Huo Gaoyuan, and Chief Executive Officer of Global Logistics Institute Mr. Kieran Ring addressed the opening ceremony.
On the sidelines of the summit, COSCO SHIPPING signed a strategic cooperation framework agreement with Shandong Port Group to join the "Belt and Road" Land-Sea Linkage Development Alliance.