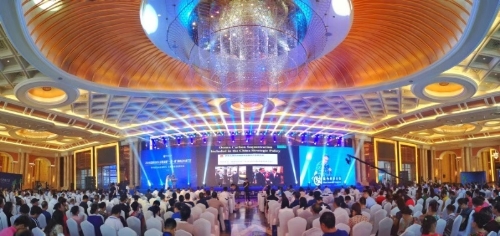 From August 29 to 31, 2019, the 2019 Blue Economy Congress and the Blue Economy Exposition, sponsored by the Haikou Municipal People's Government, Hainan Province, was held at the Hainan International Convention & Exhibition Center. As one of the hosts, COSCO SHIPPING attended the congress and its supporting exhibition.
Mr. Wang Haimin, Executive Vice President of COSCO SHIPPING, was invited to the opening ceremony of the congress and delivered a keynote speech entitled "Shipping Is an Important Driver of the Blue Economy". In his speech, Mr. Wang said that COSCO SHIPPING, as one of the earliest centrally-administered SOEs and shipping companies participating in Hainan's construction, is studying how to combine its strengths in the shipping sector with the geographic, strategic and ecological advantages of the province and seize the historic opportunities of building the Hainan Free Trade Zone and Free Trade Port to provide new impetus for the development of the blue economy in Hainan.

On the sidelines of the congress, COSCO SHIPPING held the Summit Forum on Digital Transformation of Port and Shipping Industries and Green Port Construction, which gathered together shipping experts including Mr. Zhang Ye, President of Shanghai Shipping Exchange, Mr. Yang Haisheng, President of ZPMC Intelligent Industry Group, Mr. Huang Heng, President of Shanghai Harbor e-Logistics Software Co., Ltd., and Mr. Zhen Hong, Secretary General of Shanghai International Shipping Institute. They had extensive discussions and exchanges on a range of topics, including how to integrate new technologies, such as artificial intelligence, blockchain, cloud computing and big data, with port and shipping industries, development of Hainan's blue economy through the digital transformation of port and shipping industries. Mr. Bai Peijun, Head of Research Center under COSCO SHIPPING, presided over the forum.

During the congress, COSCO SHIPPING also joined the exhibition at the National Industry Pavilion of the Blue Economy Exposition, a supporting activity of the congress. COSCO SHIPPING Holdings, COSCO SHIPPING Lines, COSCO SHIPPING Ports, COSCO SHIPPING Heavy Industry, COSCO SHIPPING Technology, Shanghai Ship and Shipping Research Institute and COSCO SHIPPING Boao jointly participated in the exhibition.

Executives from the Public Relations Division, Research Center, COSCO SHIPPING Holdings and COSCO SHIPPING Boao were also present at the activities.