At the invitation of the German Federal Government, Chinese Vice President Wang Qishan was on a state visit to Germany from May 30 to June 2 local time. During the visit, he met with Mayor of Hamburg Mr. Peter Tschentscher and also visited the Port of Hamburg, according to Xinhua.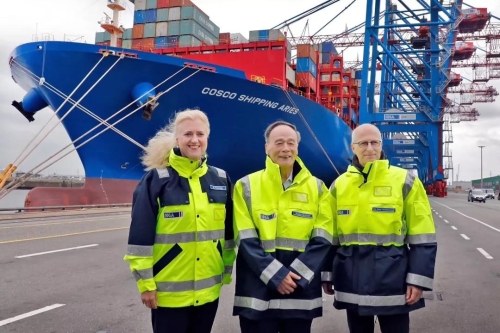 (Source: HHLA)
COSCO SHIPPING ARIES was berthing for further operations as Wang visited the port. The entire crew of the vessel lined up to welcome the Vice President, who then shook hands cordially with every one of them and took a group photo with the crew. Director of Party Disciplinary Inspection Office and Party Committee Member of COSCO SHIPPING Mr. Liu Hongwei accompanied Wang on his visit and reported to the Vice President on the participation of COSCO SHIPPING in the Belt and Road construction.
Vice President Wang Qishan acknowledged the efforts and achievements made by COSCO SHIPPING, while speaking highly of the 35-year stable cooperative relations between COSCO SHIPPING and the Port of Hamburg. He said that the company should tell good stories of China to Europe, demonstrating the close and interdependent economic and trade relations between the two sides which are expected to strengthen cooperation further for win-win results.
Hamburger Hafen und Logistik AG (HHLA) Terminal CEO Ms. Angela Titzrath told Wang that China is the largest trade partner of Hamburg. Almost one in every three containers at the terminal is from or to China. HHLA will continue to support and actively promote the Belt and Road Initiative in the hope of further expanding cooperation with the Chinese market.
Heads of COSCO SHIPPING Europe as well as COSCO SHIPPING's Operating Management Division and Discipline Inspection and Supervision Division were also present at the event. Prior to the visit, Mr. Liu Hongwei had boarded the vessel, met with the crew and held a work meeting with the crew.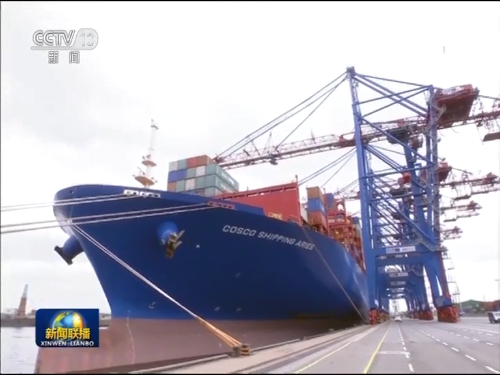 COSCO SHIPPING ARIES is China's first 20,000-TEU containership built by Nantong COSCO KHI Ship Engineering Co., Ltd. (NACKS). With an overall length of 400 meters, molded beam of 58.6 meters, and maximum draft of 16 meters, the vessel was delivered on January 15, 2018. It is also the first 20,000-TEU containership put into operation by COSCO SHIPPING. It now serves on the Far East-Northwest Europe loop (AEU3) of COSCO SHIPPING Lines, while HHLA CTT is a terminal of the Port of Hamburg called at by the ships of COSCO SHIPPING Lines on AEU3.