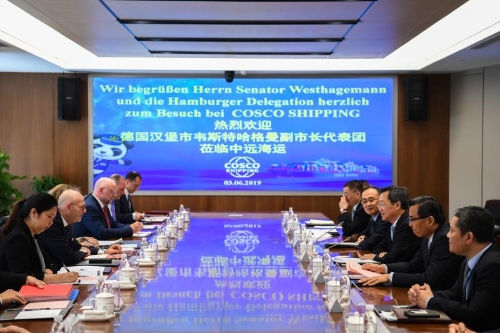 On the morning of June 3, a delegation led by Mr. Michael Westhagemann, Deputy Mayor of Hamburg, Germany, visited the COSCO SHIPPING headquarters in Shanghai. Chairman of COSCO SHIPPING Capt. Xu Lirong and Executive Vice President of COSCO SHIPPING Mr.Yu Zenggang held talks with the delegation.
The two sides reviewed their previous cooperation and exchanged views on further cooperation.
Relevant heads of the Strategy & Corporate Management Division, Operating Management Division, Public Relations Division, COSCO SHIPPING Lines and COSCO SHIPPING Ports were also present at the meeting.