From June 20 to 22, a delegation headed by Deputy Secretary of Shanghai Municipal Party Committee and Mayor of Shanghai Mr. Ying Yong visited Greece and had a field trip to the Port of Piraeus invested and operated by COSCO SHIPPING.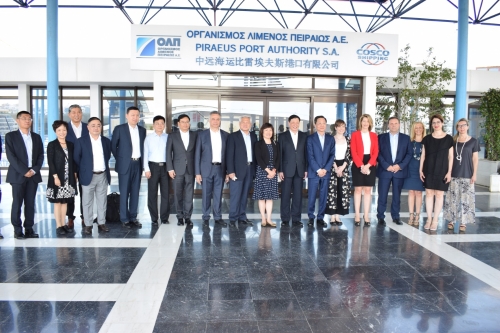 On June 21, accompanied by Chinese Ambassador to Greece Ms. Zhang Qiyue, Ying paid a visit to the Port of Piraeus, the largest port in Greece, to learn about the investments and operations of COSCO SHIPPING at the port.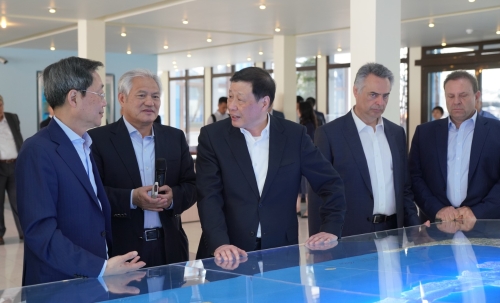 After the introduction by Chairman of COSCO SHIPPING Capt. Xu Lirong, Ying said that COSCO SHIPPING is both a shipping company with global influence and a centrally-administered SOE headquartered in Shanghai. The Shanghai Municipal Party Committee and the Shanghai Municipal Government will consistently provide full support for the company to pursue greater development. With the Port of Piraeus as a key node of the Belt and Road construction, COSCO SHIPPING has made remarkable investments in the shipping and logistics industry. Ying also expressed his hope that COSCO SHIPPING could constantly improve its operations and management, foster the idea of long-standing business operations, continuously strengthen overseas asset management, and fulfill its corporate social responsibility to deliver both economic and social benefits. While abiding by local legislation, the company should also make good use of the law to safeguard its own legitimate rights and interests. By all these means, it is expected to turn the Port of Piraeus into a model for all Chinese companies going global and serving the Belt and Road construction. Ying spoke highly of the port development plan, especially encouraging the company to contribute to the development of the entire industrial chain while expanding its main business of shipping.
In the company of Ms. Zhang Qiyue, the Mayor also visited the cruise terminal, ferry terminal, ro-ro terminal, shipyard, and container terminal of the port to inspect the operation of the port infrastructure.
During the visit, Capt. Xu Lirong specially called on Ambassador Zhang Qiyue at the Chinese Embassy in Greece, and held meetings with Piraeus Port Authority S.A. and OceanRail Logistics S.A., respectively.
Relevant heads of the Strategy & Corporate Management Division, Human Resource Division, Public Relations Division, COSCO SHIPPING Container Lines, COSCO SHIPPING Ports, COSCO SHIPPING Europe and related subsidiaries of COSCO SHIPPING in Greece were also present at the event.