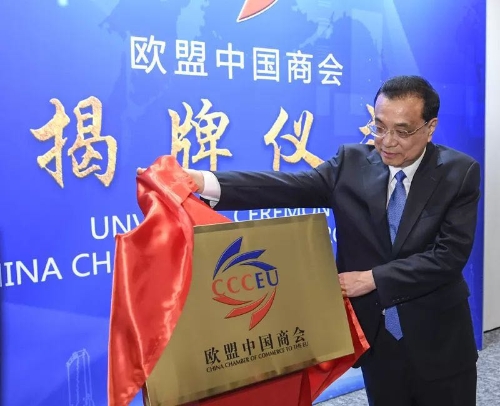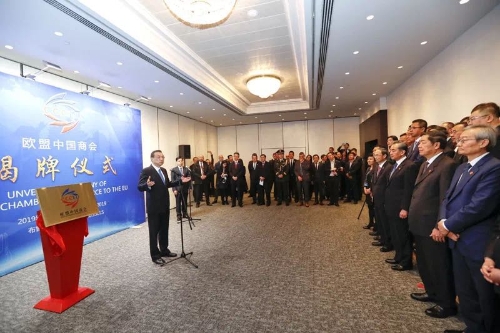 Chinese Premier Li Keqiang arrived in Brussels, the capital of Belgium for the 21st China-European Union (EU) leaders' meeting. On the afternoon of April 8, local time, Premier Li attended the unveiling ceremony of the China Chamber of Commerce to the EU (CCCEU) in Brussels, extending his wish that the chamber will build up a favorable image of China.
The CCCEU, the Premier said, should provide premium services for Chinese enterprises that invest in the EU, in a bid to efficiently propel China-EU cooperation in trade and investment. Apart from underpinning Chinese companies, the CCCEU should also take into account any suggestions and opinions from the EU Chamber of Commerce and European enterprises, which can help foster ties between the two sides. In the new round of international competition, the CCCEU should establish a good image for Chinese enterprises, Premier Li added.
As a representative of one of the three CCCEU initiators, Mr. Sun Yunfei, Executive Vice President and Chief Financial Officer of COSCO SHIPPING, attended the unveiling ceremony. Executives from COSCO SHIPPING Europe and the Finance and Accounting Division of COSCO SHIPPING accompanied Mr. Sun during the ceremony.
Registered in Brussels on August 31, 2018, the CCCEU was initiated by the Bank of China Limited Luxembourg Branch, China Three Gorges (Europe) S.A. and COSCO SHIPPING Europe. The CCCEU is aimed at, through research on EU-related policies and communication between its members and EU authorities, improving the policy conditions and investment environment for Chinese-funded enterprises within the EU and promoting China-EU economic and trade cooperation.