https://news.cgtn.com/news/7763544f32494464776c6d636a4e6e62684a4856/index.html?from=singlemessage&isappinstalled=0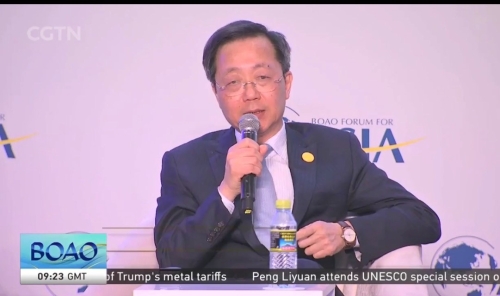 As the Belt and Road Initiative reaches further across the globe, it's picking up bigger players and heavier hitters. With Italy, a G7 member on board, projects aimed at boosting infrastructure, economies, and most of all, connectivity, are gaining new life. CGTN's Cui Hui'ao reports from Boao, where a former Italian Prime Minister is now a panelist.
As Italy has become the first G7 country to join China's Belt and Road Initiative, many view it as a historic advancement of the project. The nation's former Prime Minister Romano Prodi, a panelist here at Boao, says getting over mistrust will be a crucial step toward mutual cooperation.
ROMANO PRODI FORMER PRIME MINISTER, ITALY "We must discuss it together because if we want to cooperate, we must share the credibility of the business community in Europe."
Six years since China proposed the Belt and Road initiative, countries are better linked by sea and land via infrastructure networks with not only Europe, but also the Middle East and Africa.
The concept that the Belt and Road Initiative is not China's solo show is shared by other panelists in attendance.
JIN LIQUN, PRESIDENT ASIAN INFRASTRUCTURE INVESTMENT BANK "I think there is a big misunderstanding as if only the project done by the Chinese is belt and road. I don't think it's right. Any project done by any investor any country in any part of the world is belt and road, as long as they promote regional cooperation."
XU LIRONG, CHAIRMAN CHINA COSCO SHIPPING CORPORATION "Port construction can boost GDP and bring jobs. For example, COSCO shipping recently bought a 60 percent stake in a Peruvian port, which will bring tremendous benefits to Peru's economy."
CUI HUI'AO BOAO FORUM, HAINAN PROVINCE OF CHINA "Apart from clarifying that belt and road projects are not what some call the China-strategy, the projects are based on joint construction and shared benefits. Panelists also point out the biggest challenges facing this massive project, such as financing, debt control and environmental conservation."
SHAMSHAD AKHTAR UNDER SECRETARY-GENERAL, UNITED NATIONS "There is no one single source of finance can address the financing requirements, we have of course the Silk Road fund, AIIB, and multilateral, but the international financial institutions are a very small segment of the financing of this."
JIN LIQUN PRESIDENT, ASIAN INFRASTRUCTURE INVESTMENT BANK "Are you going to build a road leaving huge amounts of debt for this country to handle, are you going to create an environmental mess or are you going to build a road or any infrastructure projects which will achieve cost recovery."
These challenges are likely to dominate discussions during the second Belt and Road Initiative Forum, which China will host in late April. But there is one consensus: while problems can be sorted through, the goals should remain: boosting connectivity and infrastructure through cooperation. Cui Hui'ao, CGTN, Hainan Province.