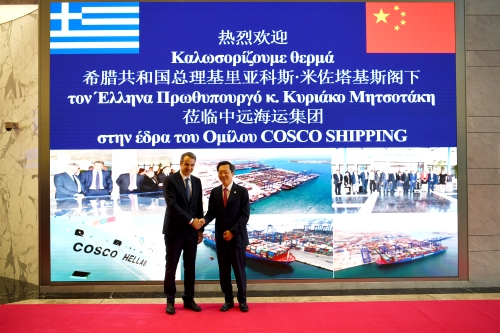 On November 4, Greek Prime Minister Kyriakos Mitsotakis, who was invited to the 2nd CIIE, visited COSCO SHIPPING. Capt. Xu Lirong, Chairman of COSCO SHIPPING, together with seafarer and staff representatives, welcomed Prime Minister Kyriakos Mitsotakis for his visit.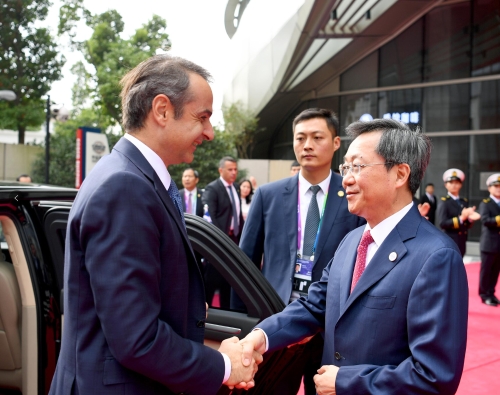 Capt. Xu Lirong extended his thanks to Prime Minister Kyriakos Mitsotakis for visiting COSCO SHIPPING headquarters during his first visit to China since taking office, and for the fast approval of COSCO SHIPPING's master plan on Piraeus Port by the new Greek government and related parties. Capt. Xu pointed out that with the concerted efforts of COSCO SHIPPING and the Greek people, Piraeus Port has become the largest port in the Mediterranean now and has resumed its position in Baltic Exchange's list of "World's Top 10 Hub Ports". He said that in the future, with the support of the Greek government and related parties, COSCO SHIPPING will increase investment and development of Piraeus Port following strictly local laws, regulations, environmental policies and requirements to build Piraeus Port into a first-class port in Europe, and make positive contributions to promoting pragmatic investment and cooperation between China and Greece in a wider scope.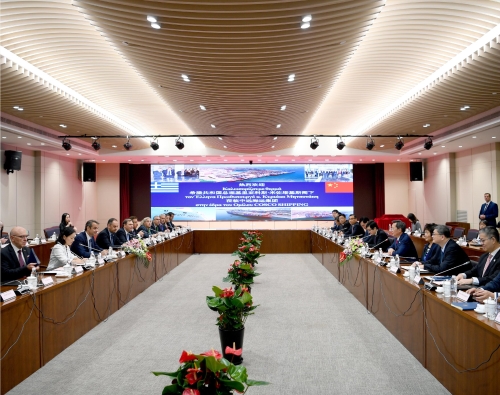 Prime Minister Kyriakos Mitsotakis extended thanks to COSCO SHIPPING for the hospitality and explained the significance of vising COSCO SHIPPING headquarters. He also thanked COSCO SHIPPING for directly creating more than 3,000 job opportunities for Greece and helping Piraeus Port grow into the largest port in the Mediterranean in a relatively short period of time. He pointed out that the Greek government has approved the master plan for Piraeus Port and discussed the investment plan for the new container terminal in Piraeus Port. He was very confident on the outlook of infrastructure construction in Piraeus Port including the cruise terminal and container terminal. He emphasized that COSCO SHIPPING has made a right investment in Piraeus Port, and believed that the implementation of the master plan will bring better development to Piraeus Port in the future. He believed that the natural geological location of Piraeus Port determines its importance in the Mediterranean or even in Europe and this major investment in Piraeus Port has brought better integration and development of the two ancient civilizations.
The two sides agreed that the Piraeus Port project is a bridge of friendship between the two ancient civilizations of China and Greece. With the implementation of the master plan as an opportunity, COSCO SHIPPING will work together with Greek counterparties to further strengthen the friendly exchanges between Chinese and Greek people, promote the interaction of the two civilizations as well as the cooperation and development in the future.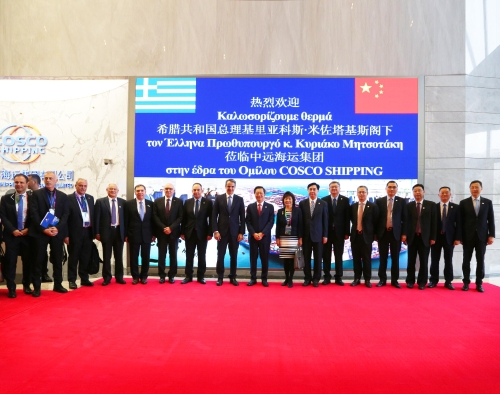 Ioannis Plakiotakis, Greek Shipping and Island Policy Minister, Konstantinos Fragkogiannis, Deputy Minister for Economic Diplomacy and Openness of Greece, Leonidas Rokanas, Greek Ambassador to China, Zhang Qiyue, Chinese Ambassador to Greece, Huang Xiaowen, Wang Haimin and Zhang Wei, Executive Vice Presidents of COSCO SHIPPING, heads of relevant divisions in headquarters and subordinate companies of COSCO SHIPPING joined the meeting.
Background information: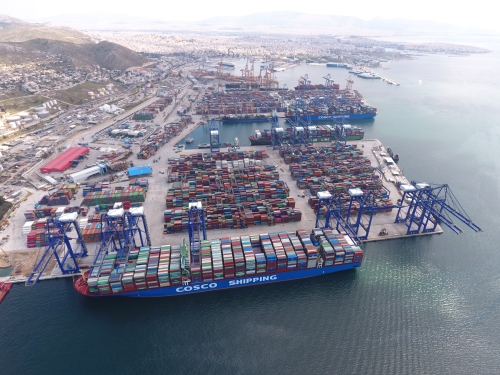 In 2010, COSCO SHIPPING took over the operation of No. 2 and No. 3 piers at Piraeus Port via concession. In 2016, COSCO SHIPPING acquired 67% equity of Piraeus Port Authority (PPA), becoming the operator of the whole port. After 10 years of diligent work and development, the global ranking of Piraeus Port has jumped from 93rd at the beginning of transfer to 32nd with the container throughput growing from 0.88 million TEU in 2010 to 5.8 million TEU expected for this year (increase by 7 folds). In 2019, Piraeus Port has surpassed Valencia to become the largest port in the Mediterranean. Meanwhile, the China-Europe Land-Sea Express Line with Piraeus Port as the hub has expanded from the single service from Piraeus Port to Czech to diversified railway services covering 9 countries including Greece, North Macedonia, Serbia, Hungary, Bulgaria, Romania, Austria, Slovakia and Czech, 1,500 sites and a population of 71 million. As of now, COSCO SHIPPING's Piraeus Port project has directly created 3,100 job opportunities for Greece locally and over 10,000 ones indirectly, contributing 300 million euros directly to local economy every year.