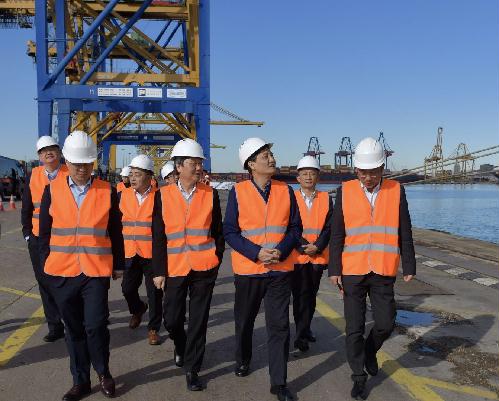 On January 27, 2018, Mr. Xiao Yaqing, Chairman of the State-owned Assets Supervision and Administration Commission of the State Council (SASAC), led a delegation to the Noatum Terminal of COSCO SHIPPING Ports in Valencia, Spain, accompanied by Chairman of COSCO SHIPPING Capt. Xu Lirong. At the working meeting held on the spot, Managing Director of COSCO SHIPPING Ports Zhang Wei reported COSCO SHIPPING's acquisition of the Noatum Terminal, developments of port layout and business models. Mr. Xiao spoke highly of COSCO SHIPPING in implementing the Belt and Road Initiative as well as improving the shipping network and port layout along the Belt and Road.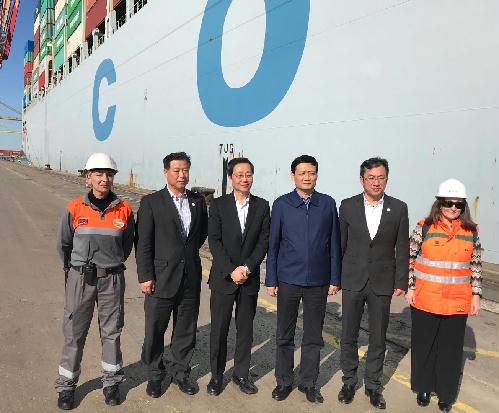 Then, the delegation boarded M.V. COSCO FRANCE berthing at the terminal and greeted the crew.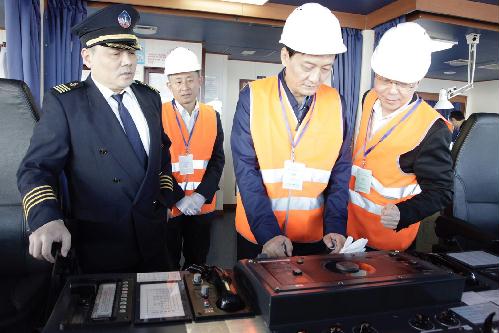 Mr. Xiao recognized the efforts made by COSCO SHIPPING's grassroots Party organizations in carrying forward the spirit of 19th CPC National Congress and strengthening Party building, and extended his New Year greetings to the crew.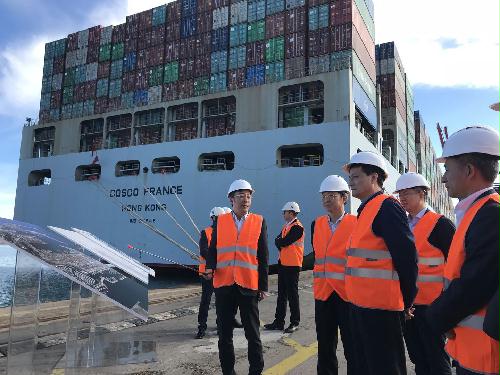 COSCO SHIPPING Ports bought a 51% stake in Noatum Port Holdings (NPH), a Spanish company, on June 12, 2017 and became its controlling shareholder after the project was delivered on October 31, 2017. In 2017, NPH's throughput reached a record high of 3.251 million TEU, a year-on-year rise of 11.2%.
Currently, NPH's major assets include Noatum Container Terminal Valencia, S.A.U. ("NCTV"), Noatum Container Terminal Bilbao, S.L. ("NCTB"), as well as two rail yard companies, namely, Conterail Madrid and NRTZ Zaragoza. Among them, NCTV is the largest container terminal in the Port of Valencia with an area of 1.45 million square meters, a berth length of 2,310 meters and an annual handling capacity of 3.57 million TEU. As the biggest container port in the Mediterranean, the Port of Valencia is the main gateway to the Iberian Peninsula and a natural port for Madrid, the capital of Spain. The hinterland, within a 350-kilometer radius of the Port of Valencia, accounts for nearly 55% of Spain's GDP. With a favorable location, the port is a transshipment hub in western Mediterranean. Covering an area of 440,000 square meters, a berth length of 1,155 meters and an annual handling capacity of 1 million TEU, NCTB is the only container terminal in the Port of Bilbao and also one of the largest and most modernized container terminals in the Atlantic region of southern Europe. Conterail Madrid and NRTZ Zaragoza, the two rail yard companies critical for multimodal transport, can not only improve the connection between the hinterland and the coastal regions and help build a more efficient logistics chain for operators and shippers, but also form a complete transportation network with NCTV and NCTB, producing synergic effects.