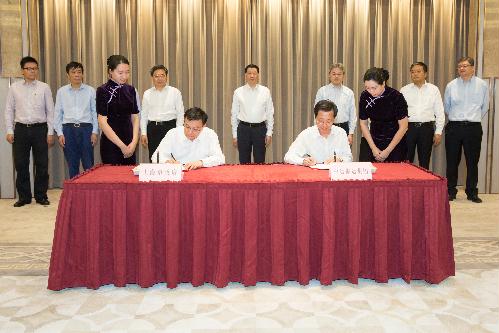 On June 9, COSCO SHIPPING and the Shanghai Municipal People's Government entered into a framework agreement on strategic cooperation in Shanghai. Mr. Ying Yong, Deputy Secretary of the CPC Shanghai Municipal Committee and Mayor of Shanghai attended the signing ceremony. Mr. Zhou Bo, a member of the Standing Committee of the CPC Shanghai Municipal Committee and Executive Vice Mayor of Shanghai and Capt. Xu Lirong, Chairman of the Board and Party Secretary of COSCO SHIPPING signed the agreement on behalf of the two parties. Other senior executives of the Group including Director of the Board and President Wan Min, Chief Financial Officer Sun Yueyin and Executive Vice President Ye Weilong, President of COSCO SHIPPING Lines Wang Haimin, and executives from the Group's relevant divisions were present at the ceremony.

According to the agreement, COSCO SHIPPING and the Shanghai Government will deepen strategic cooperation in three major areas: First, accelerate the building of the Shanghai international shipping center, facilitate the gathering of logistics, capital, information, talents and other elements essential for the development of the shipping sector, and enhance the influence of the shipping center. Second, implement national initiatves by guiding the development of the Belt and Road and the Yangtze River Economic Belt, expand the construction of infrastructures such as ports and logistics terminals in the countries and regions involved, and boost connectivity and trade and economic cooperation with Shanghai. Third, continue with the reform in SOEs and state-owned assets, encourage collaboration between central and local SOEs and linkages between port and shipping companies to jointly build a shipping ecosystem.
As the world's largest shipping company, COSCO SHIPPING will further improve its industrial structure by extending to the entire industrial chain covering shipping, ports, logistics, shipping finance, and ship building & repairing, with a view to becoming a world-class logistics service provider and playing a bigger role in building the Shanghai international shipping center.